Tractor trailer accidents are an unfortunate fact of life in Columbia, Missouri and across the state. These huge rigs pose a danger to other motorists due to their enormous size and weight. By law, a tractor trailer can weigh as much as 80,000 pounds, as compared to the 4,000 pounds of the average car, SUV or small pickup truck. Just hearing the difference between these weights makes it easy to imagine the devastation, injury and loss of life that can occur whenever a tractor trailer hits a passenger vehicle.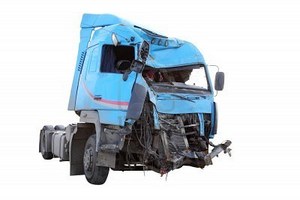 The Missouri State Highway Patrol is investigating one such truck accident that left three dead on Friday night, Nov. 18th. This tragic collision happened on westbound Interstate 70, at exit 87.
According to the Highway Patrol's traffic accident report, Judy Ritoch, 50, of Independence MO, slowed her vehicle and was struck from behind by a tractor-trailer rig driven by Dustin Wright, 30. Ritoch's car burst into flames as a result of the collision.
Her husband, David Ritoch, 49, and mother-in-law, Eileen Ritoch, 77, of Sweet Springs, were both in the vehicle as well. All three were pronounced dead at the scene.The tractor trailer driver was not injured.
Troop F reported these traffic fatalities as their 51st through 53rd of 2011 so far.
Making this accident even sadder, surviving family members told reporters that the family had been on their home from the wedding of the Ritochs' daughter at the time of the crash.
Why did this tragic tractor trailer accident happen?
At the time of this writing, the Highway Patrol's Sgt. Paul Reinsch said the accident investigation was ongoing, and that no charges had been filed against Wright. However, as Columbia Missouri truck accident lawyers for over twenty years, we know that there are many factors that contribute to tractor trailer accidents. Here are some of the main causes of these deadly incidents:
• Speeding--the number one cause of semi-truck accidents
• Driver fatigue--delivery deadlines and the desire to get home frequently make drivers push their limits, with fatal results
• Driver distractions--distracted driving is happening in epidemic proportions, and not just for truck drivers. It is illegal for commercial truckers to text while driving.
• Driving over the legally allowed number of hours per shift (12 hours)
• Driving too fast for weather conditions
• Difficulty seeing properly at night
• Tailgating--it takes tractor trailers a much longer time to come to a full stop, so if they are driving too closely behind another vehicle that has to slow or come to a sudden stop, the consequences can be deadly.
• Poor maintenance
Any of these factors might have been in play, and contributed to the cause of this tragic accident. It will become clearer once the Patrol finishes its investigation whether or not the trucker or the trucking company was negligent in any way. If they were, there could be grounds for a wrongful death lawsuit.
If you have been involved in a Columbia Missouri tractor trailer accident, it is likely that you will need legal representation to receive a fair settlement from the trucking company's insurance carrier. Call the Columbia truck accident law firm of Aaron Sachs & Associates, P.C. today and schedule a free initial consultation about your truck accident claim.
Attorney meetings by appointment only