Our Richmond, MO car accident attorneys note a recent fatality involving a military vehicle. The accident took the life of a 49-year-old woman from Bucyrus. Officials from Fort Leonard Wood report that the two-vehicle accident happened between a heavy expanded mobility tactical truck and a Dodge Neon, according to the Houston Herald.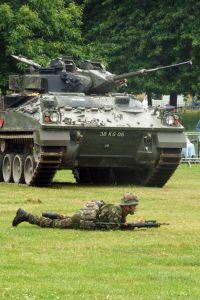 The female driver of the passenger vehicle was pronounced dead on scene. Her son who was a passenger in the vehicle, has been transported to the University of Missouri Hospital in Columbia where he was listed in critical condition. The two occupants of the military's Heavy Expanding Mobility Tactical Truck were not injured in the accident. The Army's Criminal Investigation Command and the Fort Leonard Wood Military Police are investigating the accident.
Car accidents in Richmond, MO that involve military or other government-owned vehicles -- or those that happen on military installations or on government property -- require understanding of laws which are intended to protect the government from liability.
Legal claims that are filed against the government can be tricky. There are a complete set of laws that are used to protect the government which can prove to put the victim at a huge disadvantage. These accidents can happen from dangerous conditions on public property, negligent operation of government vehicles or wrongful acts committed by government officials.
As the old Latin adage says, "Rex non potest peccare." What this means is that "The King can do no wrong." What this was used to convey was the idea that, in the Old World, rulers and officials would be immune from any liability. This means they were able to forgo laws, regulations, penalties and consequences. In other words, law enforcement could break the laws whenever necessary.
Every state in the U.S., excluding Louisiana, has chosen to adopt English common law. Back in the day, no one was able to sue the government. There was really no government liability at all.
Much has changed since then. In some cases, a resident can sue the government. You can sue the state for injuries caused by a government-owned vehicle or on government owned property. It's critical for you to contact an experienced attorney in the state who can help you through the process.
It's important that you contact an attorney in a timely manner, too. Oftentimes the government only allows you a small window of time after an accident to file a claim. If you fail to file a claim within this time, you could forfeit your rights to any sort of compensation.