The News-Leader reported that a 58-year-old woman was killed in a Springfield motorcycle accident on Saturday when she was thrown from her bike after striking a van that was making a left turn.
Our Springfield motorcycle accident attorneys remind motorists that May is Motorcycle Safety and Awareness Month. Saturday's crash was the second fatal motorcycle accident in a week's time and should be a reminder to motorists to watch for our biker friends as the spring and summer riding season gets under way.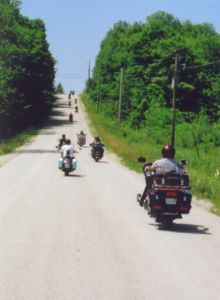 The Missouri Highway Patrol also responded to a motorcycle accident that claimed the life of a 50-year-old Springfield man, the News-Leader reported. The crash happened shortly before 9 p.m. Thursday on U.S. 160.
The Missouri Department of Transportation is also encouraging motorists to use May to get used to looking for motorcycles again through its campaign "Look. Learn. Arrive Alive."
"It's important that motorists and motorcycles are looking out for each other," said Leanna Depue, chair of the Coalition's executive committee. "With an increasing number of motorcyclists, we encourage drivers to share the road to make sure everyone Arrives Alive."
Attorney Aaron Sachs points out that "ninety-nine percent of those killed in motorcycle accidents are riders and more than 80 percent of all Missouri motorcycle accidents result in serious injury or death." In 2008, the National Highway Traffic Safety Administration reported that 5,290 riders were killed in motorcycle crashes nationwide and 96,000 were injured. Missouri motorcycle wrecks claimed 102 lives.
Paid radio announcements will begin April 27 and run through July.
More than half of all motorcycle accidents that involve another vehicle are the fault of the other driver. As such, the responsibility for preventing serious or fatal accidents falls on both motorist and rider.
Tips for riders from the Missouri Motorcycle Safety Program include:
-Wear appropriate riding gear, including helmet, face shield, full-length clothing and gloves.
-At night, be careful not to override your bike's headlight.
-Conduct pre-ride inspections and understand how to perform minor maintenance.
-Use both brakes together. The front brake should account for as much as 2/3 of a bike's stopping power.
-Slow down entering curves.
-Use special care around mud, sand or water in the roadway.
-Roads may be particularly slick following a rain stop as oil and fluids on the road mix with water.
-Standing on the pegs can help you keep control when riding over obstacles or rough surfaces.
-Always plan ahead.