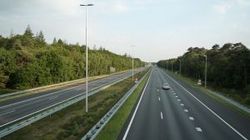 Most of the time, when Springfield, Missouri drivers think about driving defensively, they're thinking about the dangers posed by other cars. But single vehicle accidents can present just as much of a threat. The causes of single vehicle accidents are numerous and varied: excessive speed, alcohol, improper lane changes, and simple distractedness, to name just a few. Sadly, these accidents can cause serious injuries and fatalities all by themselves, and they can also initiate a horrible chain of events, involving multiple lives.
Here in the Springfield-Joplin area, we're mourning the terrible loss of two Missouri Southern football players, both of whom were former standout football players at Parkview High School. Diondre Johnson and Michael McCrimmons, both age 19, were killed on December 1 near Sarcoxie, Missouri. The two young men were passengers in a sport utility vehicle that was westbound on I-44 in Jasper County. Around 2:33 am, the vehicle left the road, struck the median, and overturned, coming to rest in the passing lane of eastbound 1-44. Johnson was thrown from the vehicle and pronounced dead at the scene.
After the SUV overturned, the driver, 19 year-old Jeremy Johnson, was able to leave the vehicle. But as he moved away from the accident, he was struck by a Pontiac Grand Prix that was traveling in the driving lane of eastbound I-44. Johnson was seriously injured and airlifted to Freeman West Hospital in Joplin. The driver of the Pontiac, 62 year-old Lee Charles, suffered minor injuries.
As if enough tragedy hadn't already occurred, within seconds of Johnson being hit, the overturned SUV was struck by another oncoming vehicle in the eastbound lanes: a tractor trailer. McCrimmons was killed on impact and pronounced dead at the scene. The SUV's fourth occupant, 19 year-old Patrick Holt, was seriously injured and airlifted to St. John's Hospital in Springfield.