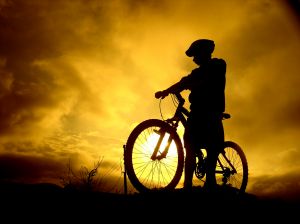 Here at Aaron Sachs & Associates, P.C., we're proud to be participating in "Safe and Sound Saturday" on Saturday, March 22, from 9:00 a.m. to 4:00 p.m. at the Springfield Expo Center in downtown Springfield. The event, hosted by KY3 and KSPR, provides a chance for families to learn all about different kinds of safety, whether at home, at play or on the road. Members of our staff will be there to hand out bicycle helmets to local children in need and to discuss the importance of safety helmets in preventing bicycle accident injuries.
For nearly two decades, our firm has participated in a child safety helmet program that has provided thousands of helmets to children throughout Missouri. Since spring is nearly here, we think it's a good time to highlight the importance of safe bicycling and helmet use. We hope to see you at Safe and Sound Saturday!
Facts about auto accidents involving bicycles:
• According to the Insurance Institute for Highway Safety (IIHS), approximately 2% of all motor vehicle accident fatalities are bicyclists. In 2011, 675 cyclists were killed in crashes nationwide.
• Annually, about 300,000 children are treated in hospital emergency rooms for bicycle-related injuries, reports KidsHealth.org. Of that number, at least 10,000 suffer injuries that require hospitalization.
• During the summer months, child bicycling fatalities increase 45% above the monthly average throughout the year.
• Life-threatening head injuries are common in serious accidents involving bicycles. About 67% of cyclists who were fatally injured in 2011 were not wearing helmets.
• Bicycle helmet use has been proven to reduce head injury risks by as much as 85 to 88%.
• Safety helmets are essential, wherever you or your children are cycling: about one-half of all bicycle crashes happen in driveways or on sidewalks.