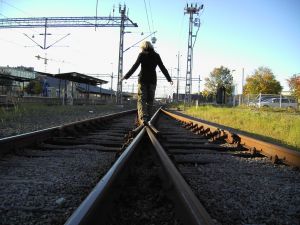 Last week, a 20 year-old Missouri man was fatally injured when he was struck by an Amtrak train in Pacific as he walked home from work. The St. Louis Post-Dispatch reports that Zachary Brady was walking in the crushed rock alongside the tracks when the accident occurred. And since 2005, according to the Post-Dispatch, there have been three other train-related deaths and one injury near the same location. "People get used to the trains," said Pacific Police Chief Matt Mansell. "And they end up losing respect for them."

Train/ pedestrian accidents are not unique to Missouri - in fact, they're becoming a large safety concern nationwide. Consider these fatal accidents, which also occurred recently in other parts of the country:
• Fort Worth, TX: A 16 year-old was struck and killed by a train as he tried to cross the tracks with a group of friends. According to the Tarrant County News, Alejandro Garnica was trying to cross around a stopped train when he was hit by another train that approached on parallel track.
• Rancho Cordova, CA: A 47 year-old woman died when she was hit by a light rail train while walking her bicycle through a railroad crossing. Authorities say Lorie Christine Muma stepped onto the tracks even though the crossing's gate, alarm and lights were functioning at the time of the crash. The train's crew attempted an emergency stop, but they were not able to stop in time.
• Westmont, IL: A 31 year-old man was pronounced dead at the scene after being struck by a Metra train. Police say Eric Bennett was crossing the tracks at a marked crossing near the Westmont BNSF station when he was struck.
Avoiding Missouri train accidents: Tips and info for pedestrians
• Remember that railroad tracks are considered private property: if you're walking on the tracks, you're legally trespassing - and you're risking involvement in a train/pedestrian accident.
• A train can require as much as a mile to come a complete stop. If an engineer suddenly sees someone on the tracks, it's extremely unlikely that he or she will be able to stop the train in time to avoid a collision.
• Always use a designated crossing to cross train tracks. Never cross if the crossing's lights, alarm, or gate are activated, even if a train has just passed. Another train might be approaching on a parallel track.
• Be mindful that trains overhang tracks by at least three feet in either direction. Walking along the tracks can prove to be deadly.

At Aaron Sachs & Associates, P.C., our personal injury lawyers represent auto accident victims in Joplin, Missouri and the surrounding areas, including Carthage, Webb City, Neosho, Diamond, Nevada, Pierce City, Lamar, Carl Junction and Sarcoxie. If you've been injured in a Missouri accident and you were not at fault, you may be entitled to compensation for your losses and damages. Contact our office today to discuss your case with one of our attorneys: call us toll-free at 1-888-777-AUTO, or click here to submit our easy-to-use online form. For your convenience, we are available 24/7/365.
Attorney meetings by appointment only