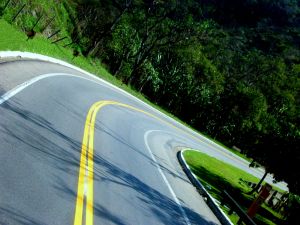 Two Columbia men have been charged with first-degree child endangerment following a rollover crash on September 18. According to the Columbia Daily Tribune, three people were injured in the accident, including two female passengers, ages 14 and 15.
It happened on Oakland Church Road: according to police, an SUV ran off the road and rolled over at around 9:30 p.m. When officers arrived, the driver had left the scene of the crash. The three other occupants of the SUV were left injured, including the two girls and a male passenger, 18 year-old Tumas Hedrick. The 15 year-old girl was ejected from the SUV, and police discovered that she had been sitting on Hedrick's lap in the front passenger seat. All three were taken to the hospital by ambulance. On Wednesday, Hedrick was arrested on a child endangerment charge. He has since been released from the Boone County Jail, where his bond was $4,500.
Immediately following the crash, law enforcement officials began searching for the SUV's driver, 24 year-old Derrell Lewis, who already had an outstanding warrant for driving without a valid license. They located Lewis and arrested him on Thursday. He is now charged with two counts of first-degree child endangerment, one count of careless and imprudent driving, one count of leaving the scene of an accident, one count driving without a license, and a final count failure to appear on the original driving without a license charge. Lewis has been released from Boone County on a $23,000 bond.
What causes a rollover accident?
Data from the National Highway Traffic Safety Administration (NHTSA) indicates that there are more than 280,000 rollover crashes reported annually. These accidents cause more than 10,000 fatalities every year. Rollover crashes are connected to a vehicle's stability - which, How Stuff Works explains,
"is influenced by the relationship between the center of gravity and the track width (distance between the left and right wheels). A high center of gravity and narrow track can make a vehicle unstable in fast turns or sharp changes of direction--increasing the odds that it will tip over once it begins to skid sideways. The problem is most pronounced in 4-wheel-drive pickup trucks and sport-utility vehicles, which have a higher ground clearance for off-road driving."
What other factors commonly contribute to rollover accidents?
• Speed. Almost 75% of rollover crashes happen on stretches of roadway where the speed limit is 55 miles per hour or higher. In addition, excessive speeding is a factor in about 40% of rollover crashes.
• Location. The vast majority of rollover accidents happen on rural roads, where the lanes are undivided and there are no barriers.
• Driver behavior. Over 90% of vehicles involved in fatal single-vehicle rollovers were executing routine driving maneuvers, like traveling straight or negotiating a curve. This statistic indicates that driver-related factors (like distractedness, inattentiveness, speeding and driving under the influence) directly contribute to the majority of rollover crashes.
At Aaron Sachs & Associates, P.C., our personal injury lawyers represent the victims of Missouri accidents. To contact our office, call us toll-free at 1-888-777-AUTO, or visit our website.
Attorney meetings by appointment only