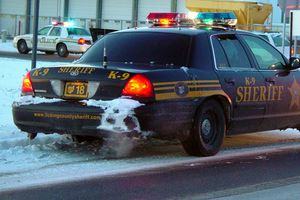 On Monday, a family of three was killed in Cordova, Alabama when their vehicle was struck by a driver fleeing police. According to the Birmingham News, 23 year-old Amber Verus; her husband, Ryan Culwell; and their 10 month-old daughter Rogue Culwell were all pronounced dead at the scene of the crash.
Authorities say they received a report of a robbery at around 7:00 p.m. on October 1. The suspects had apparently approached a 77 year-old man as he arrived in his driveway that evening. When the man didn't immediately hand over his wallet, the suspects pistol-whipped him, knocking him unconscious. They fled in a white SUV.
Local law enforcement officials began searching for that vehicle. Shortly thereafter, officers spotted the SUV in nearby Dora and gave chase. They were joined by vehicles from other local agencies, including a helicopter. During the pursuit, a sheriff's deputy was passed by the SUV and he attempted to turn around. The deputy's vehicle crashed into a crash, overturning in the process. He was taken by ambulance with non-life threatening injuries.
Meanwhile, other officers continued to follow the SUV, which ultimately ran a red light, broadsiding a car in the intersection and killing its occupants, Verus, Culwell and their daughter. Two men in the SUV fled the scene on foot. On Monday night, U.S. Marshals and other police officials searched the woods near the site of the crash.
On Tuesday, 20 year-old Dominique Smith turned himself in to police. Smith was allegedly driving the SUV at the time of the crash. Hours later, investigators located the SUV's passenger, 18 year-old Jeffrey Howe, at a residence in Ensley. They surrounded the house and ultimately took Howe into custody. They also arrested a third man, 21 year-old LaJuan McNeal, who is charged with hindering prosecution for helping Smith and Howe evade capture.

Federal agencies report several startling statistics concerning police chases:
• According to the National Highway Traffic Safety Administration (NHTSA), approximately 360 people are killed in U.S. police chases every year. Some safety advocates maintain that this estimate is considerably lower than the actual number of deaths, because there isn't a mandatory reporting system for pursuit fatalities.
• One of every 100 high speed police pursuits results in a death.
• Innocent third parties - motorists who just happen to be in the wrong place at the wrong time - account for about 42% of fatalities resulting from police pursuits.
• In an FBI study of suspect behavior, drivers who fled from police reported doing so for the following reasons: 32% were driving a stolen car; 27% were attempting to avoid arrest, and 21% were driving under the influence
At Aaron Sachs & Associates, P.C., our car accident lawyers serve clients in Columbia, Missouri and throughout the surrounding areas, including Jefferson City, Centralia, Ashland, Kirksville, Fulton, Boonville, Eldon and Moberly. If you've been injured in a Missouri crash, we may be able to help. We work on a contingent fee basis, and we offer a free initial consultation to discuss your case. To schedule an appointment, call us toll-free at 1-888-777-AUTO, or visit our website.
Attorney meetings by appointment only