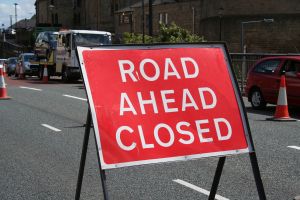 This morning, a Missouri Department of Transportation (MoDOT) worker was killed as he helped redirect traffic following an earlier crash on Interstate 70 in Independence. According to KCTV 5, the first accident happened on eastbound I-70 at around 1:40 a.m., near the Lee's Summit Road exit. It involved four vehicles and forced the closure of all eastbound lanes of the interstate. Sources say several people were injured in that crash, one person critically, when vehicle occupants were ejected.
Authorities responded to the scene, and MoDOT officials began to set up orange cones diverting traffic onto Lee's Summit Road. That's when police say an eastbound car struck a MoDOT motor-assist truck, which burst into flames. The worker, 50 year-old Clifton Scott, was struck outside his vehicle as he placed cones on the interstate. He died as a result of his injuries. The driver who struck him is also currently listed in critical condition. That driver has not yet been identified.
In a statement, MoDOT says Scott had celebrated 15 years with the Department just this week. He was hired in 1997 as a maintenance crew worker, but was promoted several times over the years, first to an intermediate and then to a senior crew worker. Scott had worked with Motorist Assist since 2002.
Authorities say I-70 re-opened around 6:00 a.m., but many commuters experienced delays due to backed up traffic.
Unfortunately, fatal accidents involving state Department of Transportation workers are not uncommon. On Tuesday, an Indiana Department of Transportation (INDOT) worker died a traffic crash as he worked with a maintenance crew on U.S. 36 near Bainbridge. 27 year-old Steven Overbay was reportedly acting as a flagman when a vehicle suddenly veered to the right of the line of stopped vehicles, attempting to avoid a rear-end crash. It struck Overbay, "propelling him onto the hood of the car and partially through the windshield," reports the Indiana Journal-Review. Overbay was pronounced dead at the scene.
Overbay's aunt, Donna Whitmer, told WTHITV 10 that Overbay had expressed concerns about erratic driving in work zones since he started working for INDOT in 2007. "I would beg people to pay attention and please slow down," Whitmer said. "Make sure you're watching the road and the surrounding when you're going through those work zones so another family doesn't have to lose their loved one."

MoDOT says 15 of its workers have been killed in traffic crashes while on the job since 2000. The Department said five factors commonly contribute to these crashes: distraction or inattention; following too closely; improper lane usage or change; driving too fast for conditions; and failing to yield.
On August 28, Missouri's newly expanded "Move Over" law took effect. The law, which has always provided protection for police cars and emergency vehicles, now includes MoDOT vehicles with flashing amber or white lights. When these vehicles are stopped and displaying their lights, Missouri motorists are required to change lanes to allow an extra lane of space.


At Aaron Sachs & Associates, P.C., our personal injury lawyers represent the victims of auto accidents in Columbia, Missouri and throughout the surrounding areas, including Jefferson City, Centralia, Ashland, Kirksville, Mexico, Vandalia, Cole Camp and Warsaw. To schedule an appointment for a free initial consultation, please contact our office toll-free at 1-888-777-AUTO. You can also visit our website to learn more about our attorneys, or to contact us online.
Attorney meetings by appointment only