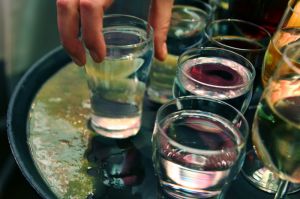 This week, the Cape Girardeau Police Department announced plans to step up enforcement of underage alcohol offenses. According to the Southeast Missourian, four agencies will collaborate to support this enforcement effort, including the Cape Girardeau County Sheriff's Department, the Missouri Highway Patrol, the Department of Public Safety at Southeast Missouri State University, and the Cape Girardeau PD.
"I think we have an implied obligation as law enforcement officers to reduce these issues," said acting police chief Roger Fields. "It's really nothing new. We've enforced alcohol laws all along. We're just putting extra effort into it and working to raise awareness. Our goal is to reduce alcohol-related issues in young people's lives before they create real problems later on."
Fields says the effort will involve saturation patrols on local roads to help prevent drunk driving accidents. Officers will also conduct compliance checks and walkthroughs at drinking establishments in an attempt to prevent businesses from selling alcohol to patrons under age 21.
According to statistics provided by Students Against Drunk Driving (SADD), about 72% of teens have consumed alcohol by the time they graduate from high school. And teens have a different physiological response to alcohol than adults do: they become intoxicated more quickly and they have greater difficulty recognizing their limits, which means alcohol can be especially dangerous, even deadly, for minors. Teen drinkers are also more likely to develop alcoholism and other medical issues as they age.
Students at Southeast Missouri State University are not allowed to drink on campus or at university-sponsored events. Doug Richards, director of SEMO's police department, told the Missourian he issued 15 alcohol violations in 2010, which included nine violations on campus and six violations in student dormitories. Richards did not have specific numbers for 2011, but he said there was an "uptick" in violations last year.
A few facts about underage drinking:
• Within the last 30 days, 26.4% of minors between age 12 and 20 have used alcohol. 17.4% have participated in binge drinking. That means more than 10 million minors have consumed alcohol within the last month.
• In 2008, 56.2% of minors who admitted to alcohol use said they had their last drink at a friend's house. 29.6% said they had their last drink in their own home.
• 30.8% of underage drinkers said they paid for their own alcohol the last time they drank, including 8.3% who purchased alcohol themselves and 22.3% who gave money to someone else to purchase it.
• Of minors who did not pay for their own alcohol, 37.4% got it from a non-relative of legal drinking age, and 21.1% got it from a parent or other adult family member.
At Aaron Sachs & Associates, P.C., our car accident lawyers represent injury victims in Cape Girardeau and throughout southeastern Missouri, including Poplar Bluff, Van Buren, Kennett, New Madrid, Perryville, Sikeston, Dexter and Potosi. If you've been injured in a traffic crash, we may be able to help. To schedule an appointment for a free initial consultation, please call our office toll-free at 1-888-777-AUTO. You can also visit our website to learn more about our firm, or to contact us online.
Attorney meetings by appointment only