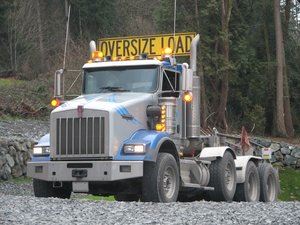 This week, a Pennsylvania jury awarded $3.2 to a woman whose husband was killed by a piece of mining equipment that fell from a semi-truck on the highway.
According to the Pittsburgh Post-Gazette, the accident happened in December 2005 and caused the death of 36 year-old Shawn Collingwood. Collingwood was reportedly traveling north when he encountered a southbound tractor trailer hauling a coal shearer loader. The loader, which was being taken for repair, included four large cylinders weighing 123 pounds each. One of these cylinders had been loaded on top of the shearer, and it was not properly secured. It flew off the truck and struck the windshield of Collingswood's Chevy Silverado. He was pronounced dead at the scene.
The wrongful death lawsuit was brought by the widow of the deceased. In the verdict, the jury assigned 90% of liability to the semi-truck driver, John Milner, and 10% to the owner of the coal shearer, Consol Pennsylvania Coal Company. Milner has also pleaded guilty in criminal court to charges of driving with an unsecured load, operating a vehicle with unsafe equipment and careless driving.
A Consol spokeswoman told the Post-Gazette that the company plans to appeal the verdict. "The trucking company and its driver took full responsibility for the accident at trial. For some reason, the jury found Consol 10 percent liable, but we think we have numerous and significant bases to appeal this verdict, and we intend to do so," the spokeswoman said.
Accidents caused by unsecured loads and other truck debris can have devastating consequences. In July, an 8 year-old boy died when a semi-truck dropped its transmission, throwing debris into another vehicle. The driver of that vehicle - 29 year-old Jameka Nicole Malone - lost her arm. Her young son, Cameron Mcllwain, was killed. And in May, an Iowa man was injured when a semi blew a tire, flinging debris into the windshield of his van.

Facts about road debris and auto accidents:
• According to the AAA Foundation for Traffic Safety, vehicle-related road debris (VRRD) contributes to approximately 25,000 crashes in North America every year.
• These crashes result in an estimated 80 to 90 fatalities annually.
• About 63% of fatal accidents involving VRRD happen on roads where the speed limit is 55 miles per hour or higher.
"Although vehicle-related road debris (VRRD) crashes are generally less severe than other crashes, individual incidents can be catastrophic," said Peter Kissinger, President and CEO of the AAA Foundation for Traffic Safety. "Moreover, many of the estimated 25,000 VRRD crashes can be prevented if truckers and motorists secure their loads properly and report debris that they encounter on the road."
At Aaron Sachs & Associates, P.C., our personal injury lawyers serve auto accident victims in Cape Girardeau and throughout southeastern Missouri, including Poplar Bluff, Kennett, Charleston, New Madrid, Sikeston, Ste. Genevieve and Potosi. We work on a contingent fee basis, and we offer a free initial consultation to discuss your case. To schedule an appointment, please call us toll-free at 1-888-777-AUTO, or visit our website.
Attorney meetings by appointment only