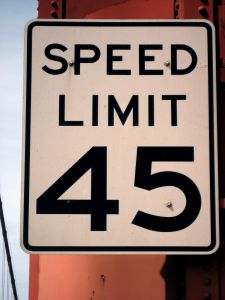 On Tuesday, a 20 year-old woman was killed and another driver was injured in a three-vehicle crash in Merriam, Kansas. KCTV 5 reports that the accident occurred on West 67th Street, west of Interstate 35, where the street narrows from a four lanes to two lanes. As the woman was attempting to move over in front of a pickup truck, the truck clipped her vehicle, causing the car to spin into eastbound traffic where it was hit by an oncoming minivan.
The woman died at the scene. She has not yet been identified. The minivan was knocked onto its side by the impact, and a passenger in that vehicle sustained minor injuries. No one else was hurt in the incident.
Law enforcement officials continue to investigate. No criminal charges have yet been filed, but authorities say speed played a role in the crash. "This was a 35 mph speed zone. An impact like that would not have happened unless they were going well over the speed limit. My advice is for drivers when you are coming up in a lane change like that is to just slow down," said Lieutenant Mike Daniel of the Merriam Police Department.
Facts about speeding and car accidents:
• Federal agencies define speeding as "exceeding the speed limit, driving too fast for conditions or racing."
• In 2010, 10,395 Americans died in speed-related car crashes, which means speed was a contributing factor in about one-third of all traffic deaths that year.
• According to the Insurance Institute for Highway Safety, speed contributes to car accidents - and to injury severity - in three basic ways:
It increases the distance a vehicle travels between the moment a driver observes an obstacle or emergency, and the moment the driver reacts to the situation.
It increases the distance a vehicle requires to come to a full and complete stop.
It increases the energy of the crash exponentially. "For example," says the IIHS, "when impact speed increases from 40 to 60 mph (a 50% increase), the energy that needs to be managed increases by 125%."
• Numerous studies have supported this general rule of thumb: "When travel speed increases by 1%, the injury crash rate increases by about 2%, the serious injury crash rate increases by about 3%, and the fatal crash rate increases by about 4%."

• The National Highway Traffic Safety Association (NHTSA) reports that speed-related crashes result in an estimated $40.4 billion in annual costs.
• In 2010, NHTSA says 39% of young male drivers in two age groups (15 to 20 year-olds; 21 to 24 year-olds) were speeding when they were involved in fatal accidents.
• A 2005 survey revealed that 37% of motorists "feel unsafe on roads as a result of aggressive drivers, and yet 68% of participants admitted that speeding was their number-one unsafe driving practice."
• The most popular reason drivers give for speeding is being late, in a hurry or behind schedule.
The personal injury lawyers at Aaron Sachs & Associates, P.C. represent the victims of Missouri accidents. To contact our office, please call 1-888-777-AUTO, or visit our website.
Attorney meetings by appointment only