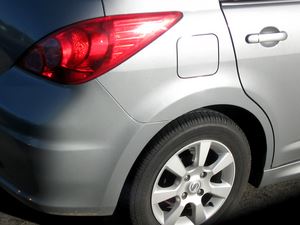 On Sunday morning, an 11 month old baby was killed and two adults were injured when they were struck by a car as they left First Baptist Church in North Kansas City. KCTV 5 reports that Autumn Humphrey, who would have turned one in September 30, was pronounced dead at a nearby hospital less than an hour after the collision.
Police say the accident happened immediately after church service was dismissed at 11:30 a.m. They believe the driver, an 89 year-old man who has not been identified, accidentally hit the gas pedal instead of the brake as he attempted to back out of a handicapped parking spot. The vehicle accelerated backwards, colliding with a parked vehicle before striking the young girl and two of relatives: her grandfather, Ronald Barnett, 65, who was carrying the child; and her aunt, Stephanie Barnett, 40, who was walking with her father and niece. The vehicle then continued speeding backwards, traveling about 50 feet before coming to a stop. It also struck a fire hydrant.
"It shot out like a cannon," witness Patty Reed told the Kansas City Star. Reed was parked directly on front of the driver's vehicle when it started to reverse. "Had he gone forward, we wouldn't be here right now."
Ronald and Stephanie Barnett were also taken from the scene by ambulance. They suffered serious injuries, but they are expected to recover. Ronald Barnett was released on Monday, but Stephanie Barnett remains hospitalized.
The driver has not been charged with any crimes, and police say he is cooperating with their continued investigation into the incident. The man is reportedly in good health and has a clean driving record.
Safety concerns surrounding older drivers have received a great deal of media attention in recent weeks. On August 29, a 100 year-old driver backed into a crowd of people at a Los Angeles elementary school. In all, 11 people were struck, including nine children, four of whom were seriously injured. Here again, local law enforcement believes the driver accidentally hit the gas instead of the brake. He too had a valid driver's license and a clean driving history at the time of the crash.

According to the Christian Science Monitor, 16 states are currently reviewing "driving while elderly laws," which would require older drivers to undergo more frequent testing in order to keep their licenses. "A lot of people are looking at this issue right now, trying to figure out something that's workable and politically acceptable," said Julie Rochman of the Insurance Institute for Highway Safety. "To get these bills passed requires a lot of political will, which can be very difficult to muster up."
In Missouri, drivers over 70 must renew their licenses in person every three years. They must take a vision test, but no written or road test is required unless a license has been expired for more than six months.
The car accident lawyers at Aaron Sachs & Associates, P.C. serve clients in Kansas City, Missouri and throughout the surrounding areas, including Independence, Lee's Summit, Blue Springs, Greenwood, Buckner, Grain Valley, Grandview and Oak Grove. To contact our office, please call us toll-free at 1-888-777-AUTO, or visit our website.
Attorney meetings by appointment only