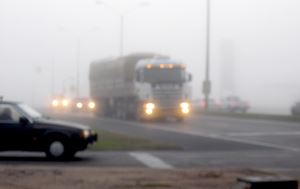 When semi-trucks are involved in crashes with passenger vehicles, the outcome is often catastrophic. A fully loaded semi-truck can weigh 20 to 30 times as much as an average car or truck - which means the occupants of these smaller vehicles are considerably more vulnerable to serious injury. And because of that sheer size and weight, big rigs can be difficult to maneuver, often requiring 20 to 40% farther to stop than passenger vehicles.
Consider these two accidents, which happened on the same day: one in Michigan, and the other in Virginia.
On Thursday morning, a man was killed in Leighton Township, MI when he failed to come to a complete stop at an intersection and his pickup truck was broadsided by a semi. Police say the semi-truck driver attempted to stop but was ultimately unable to avoid the collision. The driver of the pickup, who was not wearing a seatbelt, was pronounced dead on arrival at a nearby hospital. The driver of the semi was not injured in the crash.
Then, on Thursday afternoon, a woman was killed and a semi-truck driver was charged with reckless driving following a three-vehicle crash in Virginia. According to local law enforcement officials, a semi-truck driver was unable to brake in time to avoid crashing into stopped traffic, which had backed up on Interstate 71 because of road construction. The truck driver swerved, struck a Ford Escape and rolled onto its side. The Escape was pushed into the rear of a second tractor trailer, and the woman driving that vehicle was pronounced dead at the scene. Neither truck driver was injured, but the driver who caused the incident was cited.
These two crashes demonstrate a tragic yet simple fact: when a big rig is forced to attempt a sudden stop, the result can be deadly for the occupants of passenger vehicles. The Insurance Institute for Highway Safety reports that 3,413 Americans were killed in trucking accidents in 2010. Truck drivers only account for 14% of those fatalities: 72% were occupants of passenger cars and trucks, and 13% were pedestrians, motorcyclists and bicyclists. In fact, 97% of motorists killed in two-vehicle accidents involving semis and passenger vehicles were occupants of the passenger vehicles.

Sharing the road with commercial trucks: Basic safety tips for drivers
• Be mindful of the differences between big trucks and smaller vehicles: don't expect a semi to behave like a car.
• Allow plenty of space. Safety advocates recommend that drivers give truck drivers extra room, just in case an incident or obstacle presents itself. In addition, you'll want to increase the distance between your vehicle and a big rig, especially when traveling at highway speeds or in inclement weather.
• Never pull out in front of a semi - and don't cut off big trucks in order to reach a turn or exit. Forcing a semi to stop immediately can be a deadly mistake.
At Aaron Sachs & Associates, P.C., our personal injury lawyers represent the victims of Missouri trucking accidents. If you've been injured in a semi-truck crash, call us today to find out if we can help. To contact our office, call us toll-free at 1-888-777-AUTO, or visit our website. Offices in Springfield, Joplin, Columbia, Cape Girardeau and Kansas City.
Attorney meetings by appointment only