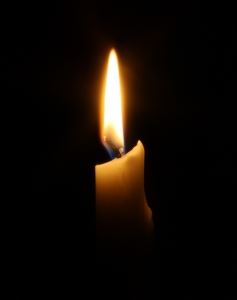 As Missouri truck accident lawyers, we know that the average passenger vehicle is no match for a semi-truck. Research shows that passenger vehicle occupants are extremely vulnerable to life-threatening injuries when they're involved in collisions with semis. And if vehicle occupants have increased safety risks, you can imagine the dangers facing pedestrians.
Recently, law enforcement officials in Illinois erected a memorial highway sign to honor a state trooper who died last year when a semi-truck driver fell asleep behind the wheel and struck the trooper as he conducted a routine traffic stop. According to the St. Louis Post-Dispatch, 32 year-old Kyle Deatherage had just returned from New Jersey when the accident occurred, where he had traveled with 28 other troopers to help assist the victims of Hurricane Sandy. On November 26, Deatherage pulled over a vehicle on northbound Interstate 55 and was speaking with the driver when he was hit by the semi. Deatherage was pronounced dead at the scene.
Following an investigation, the semi-truck driver, 52 year-old Johnny Felton, was charged with several criminal offenses, including reckless homicide, failing to slow down or change lanes to avoid Deatherage, and operating a commercial vehicle without a valid driver's license. Felton currently awaits trial: if convicted, he could be sentenced to up to 14 years in prison. Deatherage's wife and children have also filed a wrongful death lawsuit against both Felton and his employer, Dot Transportation Inc. (DTI).
In the months following the crash, attorneys representing the Deatherage family have uncovered alarming allegations against Felton that date back over three years. A October 2009 memo from a DTI manager points out that Felton had already been involved in three at-fault accidents and accused him of falling asleep at the wheel, falsifying his log book, driving more than the mileage allowed by federal law, and failing to attend safety meetings. Instead of taking him off the road, however, DTI officials reportedly sent him for more training. "This corporation makes four billion in sales a year. Those profits rely on drivers," attorney Thomas Q. Keefe told the Belleville News-Democrat. "They had knowledge that this man was a real and actual danger more than three years before he killed this young trooper, husband and father and they let him drive."

Illinois law enforcement officials hope that the memorial sign honoring Deatherage will serve as an important reminder to all motorists traveling on Interstate 55. Deatherage's brother agrees. "Hopefully that when they see somebody on the side of the road, a police officer or anybody for that matter, that they slow down or move over," said Kenny Deatherage, according to WICS News Channel 20.
Aaron Sachs & Associates, P.C. is a personal injury law firm serving the victims of Missouri trucking accidents. We maintain offices in Springfield, Joplin, Columbia, Cape Girardeau and Kansas City, and we offer a free initial consultation to discuss your case and answer your questions. If you or a loved one has suffered injuries in a collision involving a semi-truck or other large commercial vehicle, it may be beneficial to seek legal advice from an experienced attorney. For more information, please contact our office today: call us toll-free at 1-888-777-AUTO, or click here to submit our easy-to-use "Do I Have a Case?" form. For your convenience, we are available to assist you 24/7/365.
Attorney meetings by appointment only