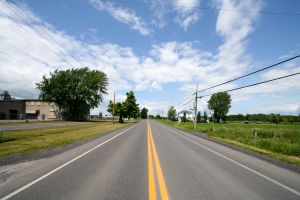 An Oregon woman has been charged with second-degree manslaughter, reckless driving and recklessly endangering others after police say she caused a distracted driving crash that killed a motorcyclist. According to the Register-Guard, authorities arrested 28 year-old Veronica Avila Diaz in connection with the crash. Additionally, Diaz's husband, 31 year-old Jose Antonio Cejas-Gutierrez, was also taken into custody on charges of hindering prosecution and interfering with a police officer.
Law enforcement officials say Diaz was driving south in a minivan when she crossed the highway's center line and struck a Kawasaki Vulcan touring bike. The rider, 72 year-old Kenneth Douglas "Doug" Carroll, was ejected from the motorcycle and pronounced dead at the scene. Diaz, Gutierrez and their passengers - three children, ages five, ten and five months - were uninjured in the accident.
A third vehicle travelling behind Carroll had to swerve to avoid the minivan and the motorcycle. It subsequently crashed into a ditch. No one in that vehicle was seriously injured.
Authorities believe Gutierrez, who was riding in the front passenger seat, was taking photographs of his wife using a cell phone in the moments leading up to the crash. As a result, prosecutors say both Gutierrez and Diaz became dangerously distracted, prompting the accident. In addition, they say Gutierrez initially lied to investigators, telling them he was driving the van when the crash occurred.
Normally, when we think of distracted driving, we automatically think of texting. And for good reason: indeed, texting is one of the most dangerous forms of distraction for drivers, since it involves the use of your hands (manual distraction), the use of your eyes (visual distraction), and the use of your brain (cognitive distraction). However, the term distracted driving refers to "any activity that could divert a person's attention away from the primary task of driving." And there are a numerous ways drivers can become distracted, thereby endangering themselves, their passengers, and other innocent motorists on the road. Activities like eating and drinking, talking to passengers, reader, using a GPS device, watching a video and playing with a cell phone may seem innocent, but they can be deadly when you're behind the wheel.

Facts about distracted driving:
• In 2010, 18% of injury crashes in the U.S. were reported as "distraction affected" accidents, according to the National Highway Traffic Safety Administration (NHTSA).
• When drivers use hand-held electronic devices in any capacity, they are four times more likely to be in accidents that cause injuries.
• The Pew Research Center says 40% of American teens report that they have ridden in a car with a driver who "used a cell phone in a way that put people in danger."


At Aaron Sachs & Associates, P.C., our personal injury lawyers serve the victims of Missouri motorcycle crashes. If you've been injured in a crash, we may be able to assist you. We represent clients in Columbia, Jefferson City, Centralia, Kirksville, Mexico, Cole Camp, Fulton, Versailles, Linn and Moberly. To schedule an appointment for a free initial consultation, please call us toll-free at 1-888-777-AUTO, or visit our website.
Attorney meetings by appointment only