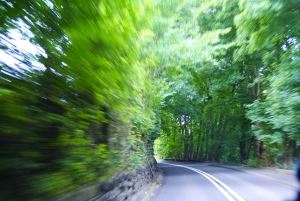 A Kansas City teen has been charged with involuntary manslaughter in connection with a street racing crash death in Kansas City earlier this year. KCTV 5 reports that Jackson County prosecutors have indicated 19 year-old Dawontay Frazier for causing the brutal wreck that killed 17 year-old Alycia Cornelius.
It happened in April 2012 on Hillcrest Road near the old Bannister Mall, where the speed limit is 40 miles per hour. Investigators say Frazier was traveling over 100 miles per hour when he lost control of his vehicle, ran off the road and plowed into a tree. The strength of the impact tore the car into two pieces and ripped the bark from the base of the tree.
Cornelius was riding in the front passenger seat. She was pronounced dead at the scene. Frazier also sustained critical injuries in the collision: according to his family, he was in a coma for a period of time following the crash.
Witnesses reportedly saw Frazier racing with another vehicle prior to the accident. Police interviewed the driver of that vehicle, who had pulled over at the crash site. He told investigators that he had been at Frazier's house earlier when they decided to drive to Quik Trip in separate vehicles. He admitted that both he and Frazier had been speeding on their way to the convenience store, but claimed they were not racing. Instead, he said he was attempting to catch up with Frazier to signal that he didn't want to race.
Frazier's bond has been set at $100,000, and he remains in jail. He will next appear at a preliminary hearing scheduled for October 25.
On September 30, a Pine Lawn man was killed in a high-speed crash blamed on street racing, reports the St. Louis Post-Dispatch. 24 year-old Michael Boone died when his vehicle slammed into a concrete pillar in downtown St. Louis. Witnesses said Boone was traveling at a high rate of speed when he lost control of his vehicle. Prior to the accident, Boone told his brother that he was going to street races in his girlfriend's car, according to the Post-Dispatch. Authorities continue to investigate that incident.