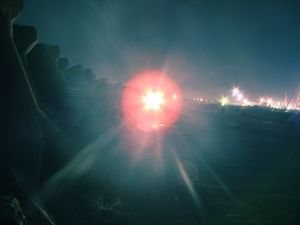 A Kansas City teen is facing criminal charges in connection with a wrong way crash that injured ten people and killed a newborn baby. On October 12, 18 year-old Bryan L. Blankenship was formally charged with one count of first-degree involuntary manslaughter and eight counts of second-degree assault. Blankenship has not yet been taken into custody, but a warrant has been issued for his arrest.
The accident happened in the early morning hours of April 5. At around 12:45 a.m., Platte County Sheriff's deputies observed a vehicle traveling north in the southbound lanes of Interstate 29 - in fact, they had to swerve to avoid hitting it. By the time the squad car turned around and caught up with that vehicle, driven by Blankenship, it had crashed into a southbound SUV, triggering collisions involving five vehicles and 23 vehicle occupants.
Ten people were taken from the scene by ambulance, including Blankenship. One was a pregnant woman, and because of her injuries, her baby was delivered only hours after the incident. The child did not survive.
Investigating the crash proved challenging for law enforcement officials. "It involved five vehicles, so they were spread all over the roadway. One was down on embankment. It was fairly chaotic," Sergeant Bill Mahoney of the Kansas City Police Department told KCTV 5 in late April. "It continues to be a challenge. Just the sheer number of cars and the sheer number of people involved."
It took a few months, but ultimately investigators were able to conclusively determine the sequence of events. In addition, Blankenship's blood alcohol content was found to be 0.197% - over twice the legal limit - and drugs were found in his system.
If convicted, Blankenship could face 15 years in prison for the manslaughter charge. The assault charges carry a maximum penalty of seven years for each individual charge. Blankenship's bond was set at $100,000.

In 2010 and 2011, researchers from the Federal Highway Administration (FHWA) collaborated with the Michigan Department of Transportation to analyze over 100 wrong-way crashes that occurred between 2005 and 2009. Here's what they found:
• Almost 60% of the wrong way drivers were impaired, with 48% testing positive for alcohol, 7% testing positive for drugs, and 5% testing positive for both alcohol and drugs.
• The vast majority of these wrong way collisions occurred during conditions of darkness: 78% of the crashes occurred between 11:00 p.m. and 6:00 a.m.
• Nearly 75% of the wrong way drivers were men, but their ages varied across the spectrum: 17% were 65 or older, and 23% were under age 25.
• According to the report, "the severity of an individual wrong-way crash was clearly linked to how far the wrong-way vehicle progressed onto the system, most likely due to the speed of the involved vehicles." About 42% of wrong way freeway crashes caused a death or an incapacitating injury, but only 6% of wrong way exit ramp crashes had such serious outcomes.
At Aaron Sachs & Associates, P.C., our personal injury lawyers serve clients in Kansas City, Missouri and throughout the surrounding areas, including Kansas City, Independence, Lee's Summit, Blue Springs, Liberty and Excelsior Springs. To contact our office, call 1-888-777-AUTO or visit our website.
Attorney meetings by appointment only