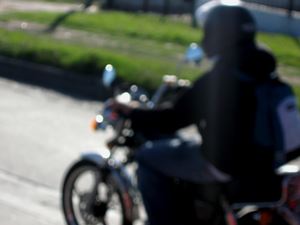 A North Little Rock man has pleaded not guilty to criminal charges in connection with a hit-and-run crash that seriously injured a motorcyclist. According to KTHV, Nathan Ray is charged with reckless driving, leaving the scene of an accident with injury, and driving with a suspended license.
At around 1:00 a.m. on September 3, police say Ray was traveling east on Interstate 40 when he struck the rear end of a motorcycle. The rider, 28 year-old Trevor Ware, was thrown onto the car's windshield and then dragged under the vehicle. But Ray kept driving, dragging the motorcycle for about a mile and half down the highway before it dislodged itself from his car.
Ware was seriously injured in the crash. He sustained a brain injury, a torn colon, a fractured femur and fractured vertebrae. He remains hospitalized in a coma. Family members say he was not wearing a helmet when the collision occurred.
Investigators located Ray later that morning and took him into custody. They suspect he was intoxicated at the time of the crash, but they have not released the results of his blood screen. Authorities say he has an extensive criminal record that includes charges of driving while intoxicated, refusing a breathalyzer test, driving without proof of insurance, failure to yield and leaving the scene of a single-car accident. Ray is free on bail until his next court date, which is set for January 9.
If you'd like to contribute to the Trevor Ware Hospital Fund, click here to visit his family's donation website.
According to the Insurance Institute for Highway Safety (IIHS) the number of motorcycle deaths was about 30 times the number of car deaths in 2010, per mile traveled. Motorcyclists are especially vulnerable to serious injury when they're involved in collisions with passenger vehicles, because there's nothing to protect riders from the force of impact. And motorcycles are simply less visible than other kinds of vehicles, making them easy to overlook.

At this time of year, Missouri drivers should expect to encounter motorcycles in daily travel on roadways throughout the state. To ensure everyone shares the road safely, we want to encourage drivers to keep their eyes open and to be mindful of motorcyclists traveling near you. It can be difficult to judge a motorcycle's speed or distance, so it's extremely important to be attentive. And we urge riders to make themselves visible to other drivers: stay out of other vehicles' blind spots, wear bright colored clothing, and use lights and reflectors when riding at night. Also, don't forget your helmet: it's required by Missouri law, and it just might save your life.
At Aaron Sachs & Associates, P.C., we represent car accident victims in southeastern Missouri. Our personal injury lawyers serve clients in Cape Girardeau, Poplar Bluff, Van Buren, Kennett, New Madrid, Perryville, Sikeston, Ste. Genevieve, Dexter and Potosi. If you'd like to schedule an appointment for a free initial consultation, please contact us toll-free at 1-888-777-AUTO. You can also visit our website to learn more about our firm, or to contact us online.
Attorney meetings by appointment only