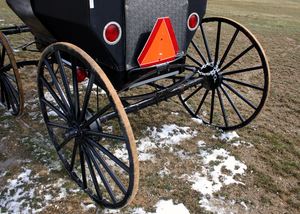 A Wisconsin semi-truck driver is under arrest in connection with a hit and run crash involving his big rig and an Amish family's buggy. It happened on Halloween night, according to WEAU 13 News, as a family of five traveled along Highway SS in Barron County. Witnesses reported that a Jennie-O truck struck the buggy and then left the scene without offering assistance.
"All five people were ejected out of the buggy and there were just pieces of the buggy all over the ditch," Barron County Sheriff Chris Fitzgerald told WEAU.
The occupants of the buggy included a husband and wife (Felty Lambright, 31, and Lorene Lambright, 30) and their three young daughters (10 year-old Amanda, 8 year-old Luella, and 7 year-old Marilyn). All five suffered multiple injuries ranging from moderate to serious: the female passengers were all transported from the scene by ambulance, and Felty Lambright was airlifted to Mayo Clinic Health Systems in Eau Claire. No details about the family's current condition have been released.
Thankfully, witnesses were able to provide deputies with information about the semi-truck that caused the crash. Investigators knew they were looking for a Jennie-O truck with dual rear tires and front end damage, so they contacted the Jennie-) facility in Barron. There, they obtained more specific details about the driver and vehicle, and ultimately the truck was located at that location. They also interviewed a driver, 40 year-old Brian Holst, who admitted to striking the buggy and leaving the scene of the collision.
Holst was subsequently arrested and currently remains incarcerated. Today, he was formally charged with hit and run causing great bodily harm: his bond was set at $50,000.
"To leave a family, especially those three little girls alongside the road, not knowing what happened to them, both my wife and I were just sick about it when we heard it this morning," said Wayne Olson, who lives along Highway SS near the crash site. "You have to be aware that these buggies are on the road all the hours of the day. Then, especially at night. You don't really realize how slow they're going," Olson added.

It's no secret that semi-trucks can be deadly instruments when they're involved in collisions. These large trucks often weigh 20 to 30 times more than other vehicles on the road. Given their massive size and weight, even the occupants of enclosed passenger vehicles (like cars and small trucks) are especially vulnerable to life-threatening injury. When a victim has even less protection from the force of impact (i.e. pedestrians, motorcyclists and buggy occupants), the potential for injury is even greater.
At Aaron Sachs & Associates, P.C., our personal injury lawyers represent the victims of Missouri trucking accidents. If you or someone you love has been injured in a collision involving a semi-truck, we may be able to assist you. Our firm maintains offices in Springfield, Joplin, Columbia, Cape Girardeau and Kansas City, and we offer a free initial consultation to discuss your case. If you'd like to schedule an appointment, please call us toll-free at 1-888-777-AUTO, or visit our website.
Attorney meetings by appointment only