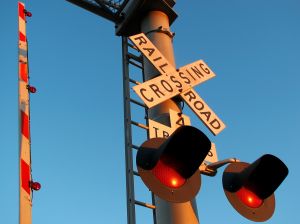 On Thursday, four people were killed and 16 more were injured when a freight train struck a parade float carrying U.S. military veterans and their spouses. It happened at a railroad crossing in Midland, Texas, during the city's "Hunt for Heroes" parade, an event that was supposed to kick off a weekend of festivities to honor wounded veterans.
According to NewsWest 9, the last two floats in the parade were flatbed trucks equipped with seats for the military men and their wives. The first truck made it through the crossing without incident; however, as the second truck pulled onto the tracks, the crossing gate dropped and the warning lights began to flash. Some of the float's occupants were able to jump off the truck, but witnesses say it was a mere matter of seconds before the freight train, traveling approximately 62 miles per hour, slammed into the float.
Two veterans were pronounced dead at the scene: 37 year-old Army Sgt. Maj. Gary Stouffer and 47 year-old Army Sgt. Maj. Lawrence Boivin. Two more were pronounced dead at a local hospital: 43 year-old Army Sgt. Maj William Lubbers and 34 year-old Army Sgt. Maj. Joshua Michael. Boivin and Michael reportedly pushed their wives to safety prior to the collision. Of the injured, one person is in critical condition; four others are listed as stable; and ten victims were treated and released.
Officials from the National Transportation Safety Board (NTSB) are investigating the collision. They have not yet determined if the crossing's lights and gate were functioning properly at the time of the crash. Investigators will review numerous pieces of evidence in the coming days, including "black box" digital recorders; video footage captured by a camera on the train; and separate footage caught by dashboard camera in a sheriff's car that was behind the float. Early next week, the NTSB plans to re-create the accident conditions to help investigators judge "What could be seen, when, (and) where?", according to Board spokesman Mark Rosekind.
Collisions at Railroad Crossings: Basic Facts and Statistics
• There are more than 217,000 railroad crossings throughout the United States, and over 134,000 of those crossings intersect with public roadways. (Angels on Track)
• After the emergency brakes are applied, a freight train traveling at 55 miles per hour can require a mile or more to come to a complete stop. That's roughly the length of 18 football fields. (Operation Lifesaver)
• Drivers are nearly 20 times more likely to be killed in collisions involving trains than in collisions involving other passenger vehicles. (Operation Lifesaver)
• In 2010, there were over 2,000 vehicle-train collisions at U.S. railroad crossings. These collisions resulted in 266 fatalities and 991 injuries. (Federal Railroad Administration, preliminary statistics)
At Aaron Sachs & Associates, P.C., our auto accident lawyers represent injury victims in Columbia, Missouri and throughout the surrounding areas, including Jefferson City, Centralia, Ashland, Moberly, Boonville, Fulton, Cole Camp, Mexico and Kirksville. We work on a contingent-fee basis, and we offer a free initial consultation to discuss your case. If you'd like to schedule an appointment, please call us toll-free at 1-888-777-AUTO, or visit our website.
Attorney meetings by appointment only