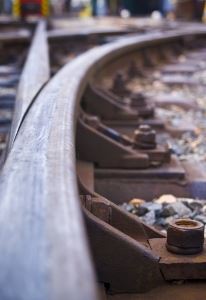 As Cape Girardeau auto accident lawyers, we know that railroad crossings can pose many dangers to motorists and pedestrians alike. According to Operation Lifesaver, a motorist involved in an accident with a train is 20 times more likely to suffer fatal injuries than a motorist involved in an accident with another motor vehicle. Freight trains are often on the rails, but do not always travel on a schedule. Motorists should always be prepared for a train when approaching a highway-rail intersection. Also, remember that trains may approach from either direction. Train cars are sometimes pushed by locomotives instead of being pulled, so a train could be moving in any direction at any time. An average locomotive's weighs about 400,000 pounds (or 200 tons), and can weigh as much as 6,000 tons. Because of its massive size and weight, a train traveling at 55 mph requires more than a mile (or the length of 18 football fields) to come to a complete stop. Trains simply can't stop suddenly: therefore, it is imperative for motorists and pedestrians to steer clear of train tracks unless crossing at a public roadway.
Sometimes, however, even the most cautious driver can't avoid an accident. Recently, seven people were injured near Rockview, Missouri after derailed rail cars slammed into the pillars of the Highway M overpass. According to the Southeast Missourian, The sequence of events was triggered when a Union Pacific train hit the side of a Burlington Northern Santa Fe train at a rail intersection, causing both trains to derail. Subsequently, the derailed cars hit supporting columns of the overpass, causing two 40 foot sections of the bridge to buckle and igniting a diesel fire in one of the train's locomotives. The fire was quickly extinguished.
At the time of the incident, there were two cars on the bridge carrying a total of passengers, all of whom were taken to Saint Francis Medical Center in Cape Girardeau, along with a train conductor and an engineer. Thankfully, no one was seriously injured and all seven victims were treated and released. Currently, the National Transportation Safety Board (NTSB) is investigating factors that may have contributed to the accident.
In 2012, there were 50 collisions at Missouri highway-rail grade crossings, which resulted in nine fatalities, according to The Federal Railroad Administration. However, since the beginning of Operation Lifesaver in 1972 to 2012, the number of fatal accidents involving trains has decreased by 83%. Train accidents involving vehicles and pedestrians can be fatal, but are very preventable. The number of fatalities involving trains can continue to decrease with motor and pedestrian awareness.

We encourage southeast Missouri drivers to remember that technology has allowed trains to be quieter and quicker, so being alert and aware of your surroundings near train tracks is imperative for your safety. The best way to safeguard yourself and your passengers against these accidents is stay focused on the task of driving: avoid potential distractions: put your phone away, turn your music down, and always double check for a train approaching before passing through a crossing.
At Aaron Sachs & Associates, P.C., we represent auto accident victims throughout the state of Missouri. To contact our office, call us toll-free at 1-888-777-AUTO, or visit our website.
Attorney meetings by appointment only