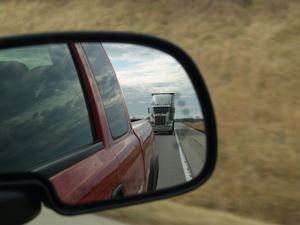 This week, our Missouri truck accident attorneys were pleased to see that the Missouri Senate passed an important bill that directly impacts the safety of Missouri motorists in more ways than one. Bill SB443 puts Missouri in compliance with federal standards related to commercial truckers who have a history of driving under the influence.
To read a summary of SB443, click here.
The bill passed 29-4, and will now proceed to the House. Under the terms of the new legislation, drivers who have suspended or revoked licenses will find it much more difficult to have limited driving privileges reinstated. Those drivers will no longer be able to obtain restricted licenses due to the need for medical treatment, or to prevent an "undue hardship." Additionally, drunk driving offenders would be required to wait 45 days (instead of 30, under current law) to regain any limited driving privileges. Finally, importantly, interstate truck drivers will be required to submit written medical proof that they are indeed fit to drive.
Aside from the obvious safety benefits of SB443, the Senate's passage of the bill will likely stop the state from losing tens of millions of federal dollars for Missouri road construction and improvements. The Federal Motor Carrier Safety Administration (FMCSA) had set a January 30 deadline for all states to comply with federal mandates, but in late 2011, approximately 1/3 of states (including Missouri) reported that they would not meet that deadline. Last year, about $20 million in Missouri's federal funds were repurposed from construction to highway safety efforts, because the state was one of 15 not in compliance with federal regulations related to drunk drivers. Until the law is changed, those funds will continue to be repurposed.
FMCSA has warned that states failing to meet the deadline could lose 5% of highway funding, meaning that Missouri stands to lose approximately $30 million this year. For that reason, state legislators have put a rush on the bill. The Senate Transportation Committee took a single day to approve SB443, and the Senate voted for its passage on January 27.

Unfortunately, the state was not able to bring the bill to the Missouri House in time to meet FMCSA's deadline, but the agency has indicated that Missouri may be entitled to a grace period, provided it submits a timely plan showing "an earnest intent to gain full compliance." State officials hope that the Senate's expedited process will demonstrate Missouri's willingness to comply, and spare the state the loss of federal funding.
The Missouri Department of Transportation (MoDOT) reports that commercial trucks were involved in 11-15% of fatality accidents over the last 10 years. What's encouraging, however, is that the number of these accidents continues to drop: in 2000, there were 198 fatal trucking accidents; by 2005, that number had dropped to 109. In 2010, the total was slightly lower, at 105 fatalities. But MoDOT reported that throughout the year, a Missouri motorist was killed or injured in a collision with a commercial truck every 2.1 hours.
Our Missouri truck accident attorneys hope the passage of SB443 will continue to reduce the number of trucking accidents in our great state. Keeping unsafe drivers off our highways is a fundamentally important means to getting more Missouri motorists to their destinations safely.
If you or a loved one has been injured in a Missouri trucking accident, contact our office toll-free at 1-888-777-AUTO to schedule a free initial consultation. We serve clients throughout Missouri from our five offices: Springfield, Joplin, Columbia, Cape Girardeau and Kansas City. Attorney meetings by appointment only.
Attorney meetings by appointment only