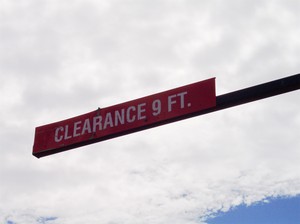 On Saturday, two people were killed and 29 others were injured - three critically - when a bus slammed into a concrete overpass at Miami International Airport. According to The Miami Herald, the bus was carrying a group of Jehovah's Witnesses that were en route to a religious convention in Palm Beach. Authorities say the bus driver, 47 year-old Ramon Ferreiro, made a wrong turn and drove to the airport accidentally. The bus, a large white motor coach, was too tall to fit through the entrance to the arrivals area. Ferreiro reportedly drove past several signs warning drivers of large vehicles about the low clearance before he struck the overpass.
"I thought, 'My God, where did the front of the bus go?'" said aviation worker Osvaldo Lopez, who was the first person to arrive at the scene of the crash. "The roof itself was peeled up -- all the way back to where it couldn't go any further."
Two men sitting near the front of the bus were killed: 86 year-old Serafin Castillo was pronounced dead at the scene, and 56 year-old Francisco Urena died at a nearby hospital. Everyone on the bus was taken by ambulance to Jackson Memorial Hospital, where three passengers remain in critical condition.
Law enforcement officials continue to investigate the circumstances surrounding the crash. "The preliminary info tells us that [Ferreiro] wasn't too familiar with the area surrounding the airport, and that's what led him to take perhaps the wrong ramp that led him onto the property of the airport, and because of not being familiar with the airport, did not know or really see the height requirement in order for that bus to clear the overpass," Detective Alvaro Zabaleta, spokesman for the Miami-Dade Police, told ABC News.
UPDATE, 12/10: A third bus passenger has died of injuries sustained in the crash. The Herald reports that 75 year-old Gilceria Emerida Garcia died on Monday. Two other passengers still remain hospitalized, but their condition has been upgraded to "good." In addition, Ferreiro released a brief statement offering his "deepest sympathies" to those affected by the accident. Police say he has a valid commercial driver's license, and neither he nor his employer (Miami Bus Service Corp.) have any previous safety violations on record. Ferreiro has not yet been charged with any criminal offenses in connection with the accident.
Bus accidents happen much more infrequently than other kinds of auto accidents. However, when these crashes do occur, they commonly cause serious, life-threatening injuries, including brain damage, burns, bone fractures, and neck and spine injuries. Buses are larger, taller, and heavier than other kinds of vehicles - and accordingly, they have the potential to cause severe damage to both people and property.
In 2009, 221 people died and 9,000 more were injured in bus accidents throughout the United States, according to data from the Federal Motor Carrier Safety Administration (FMCSA).
At Aaron Sachs & Associates, P.C., our personal injury lawyers serve the victims of Missouri bus accidents. Our firm maintains offices in Springfield, Joplin, Columbia, Cape Girardeau and Kansas City, and we offer a free initial consultation to discuss your case. To schedule an appointment, please call us toll-free at 1-888-777-AUTO. You can also visit our website to learn more about our attorneys, or to contact us online.
Attorney meetings by appointment only