Wife of Air Race Victim Files $25 Million Lawuit - Burden of Proof Always on Plaintiff in Wrongful Death Suit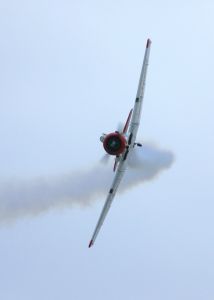 Air races and air shows are popular events in Joplin MO, along with the rest of the nation. These events usually bring out the entire family, and are certainly expected to be safe. However, Joplin MO accident lawyers are aware of 11 air show crashes that have been reported in 2011 so far, with 16 fatalities. In all but one of these cases, the fatalities were to the pilots of plane, and no spectators were involved.
The nation was shocked by the tragic plane crash that occurred on Sept. 16th during the Reno National Championship Air Races. This disaster occurred when a vintage plane crashed into the tarmac during the show. It killed not only the pilot but ten spectators, and injured 75 others, 15 critically.
On Nov. 1, a $25 million wrongful death suit was filed by Dr. Sezen Altug, the wife of one of the victims of that disaster, Craig Salerno. The suit claims the Reno, Nevada, crash was not a "freak accident," but was "the predictable result of a reckless drive for speed by a risk taking pilot and crew, coupled with an insatiable drive for profit" by race organizers. It is expected to be the first of many lawsuits.
Also named in the suit along with the Reno Air Racing Association are pilot Jimmy Leeward, (who was killed in the crash) Leeward Air Ranch, the pilot's Ocala, Fla.-based racing team, Texas-based mechanic Richard Shanholtzer of Frontier Aviation, Aeroacoustics Inc. and Aero-Trans Corp.
Craig Salerno, 50, of Friendswood, Texas, was a both a private pilot and volunteer firefighter, as well as a father of two. Salerno had been invited by friends to sit in the box-seat section at the races. Unfortunately, he was in the wrong place at the wrong time, as Leeward's modified P-51 Mustang lost control and slammed into the tarmac at about approximately 400 mph.
"In an air show, pilots are forbidden from flying toward the crowd, and all performers must remain over and fly parallel to the show line at a safe distance from spectators. In an air race, however, pilots circle a course just as cars would in a race on the ground," the lawsuit says. "This means that on at least one turn -- typically down the home stretch -- the air racers fly directly towards the spectators."
Wrongful Death Claims
In a wrongful death case such as this one, the burden of proof always falls on the plaintiff who files the suit. Her attorneys and their investigators will need to collect enough evidence to prove negligence on the part of those being sued. An article on KXLY.com provides details about modifications made to the aircraft to enhance its speed. As the aircraft was "vintage" and never designed to fly that fast, it is possible that this will be a large part of the evidence introduced to prove negligence on the part of the defendants.
The state of Missouri allows for wrongful death suits under the Revised Statutes, Chapter 537, Torts and Actions for Damages. However, not every death is grounds for a wrongful death suit, or grounds for a $25 million suit either.
If someone in your family has been killed as a result of someone else's negligence, the Joplin MO wrongful death lawyers at Aaron Sachs offer a no-cost initial consultation about your claim. We are here to help, with over fifty years of combined experience in the Missouri justice system. Call us today.
Attorney meetings by appointment only
Posted By
Aaron Sachs & Associates, P. C.
Categories: