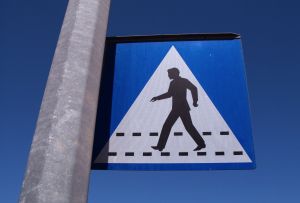 Pedestrians being hit by cars or trucks are surprisingly common in Columbia and the rest of the nation. According to the National Highway Traffic Safety Administration, at least 60,000 pedestrians were injured in traffic accidents in 2006. While hitting an unprotected human being at a speed of over 30 miles per hour will likely result in serious injuries and fatalities - Columbia car accident lawyers know that a pedestrian can be severely disabled even if the driver who hits them is only going 10 miles per hour.
A recent accident in Columbia MO highlights how complicated the issue of fault can be in a personal injury case. In this accident, a man, Isaac Guest, ran across I-63 near its intersection with Route N, just south of Columbia. It was 11:50 at night, so obviously quite dark, and Guest was hit by an eastbound 1996 Dodge driven by Charles Campbell, 45, of Columbia.
Guest was taken first to Boone Hospital Center, but later had to be transferred to University Hospital, where he was listed in critical condition at the time of this writing. Campbell was arrested on suspicion of DWI, vehicular assault, and driving with no insurance.

The "Rule of Negligence" in Missouri Injury Cases
A person who doesn't exercise a reasonable standard of care under the specific circumstances may be considered negligent.
What happens if both parties share the fault for the accident? For instance, if one driver was impaired, and his reaction times were down, or he was speeding, then that driver may bear some of the fault. However, the pedestrian may have been crossing the road illegally, in a place where no driver might ordinarily expect a pedestrian to be or wearing dark clothes late at night.
Missouri uses the "pure comparative negligence rule." This means an injured party may recover damages even if he was partially at fault, but the amount will be reduced by a percentage in proportion to his fault in the accident. If someone is injured in an accident where he bears 50% of the fault, the damage award might be 60,000--but that person can only receive $30,000.
The police report is a starting place. Sometimes the responding officer is able to make measurements that will be noted in the initial crash report. The police take statements from the drivers, passengers, witnesses or any pedestrians involved to make their determination. The accident report filed by the police reflects contributing circumstances which is interpreted as "fault" by many insurance companies.
If you have been injured in an accident, you need to consult a car accident lawyer. The Columbia car accident lawyers at Aaron Sachs & Associates, P.C. offer a no-cost, no obligation initial consultation about your car accident or pedestrian accident case. Please call us today to see how we may help you.
Attorney meetings by appointment only