At Aaron Sachs & Associates, It is our belief that you see more of a community's heart and soul in times of need than in times of comfort and safety. This has been proven by our Missouri community's response to their Joplin neighbors, following the recent tornado's devastation. We have heard many stories of local heroes, going above and beyond and reaching out to their neighbors in any way they can. This is the kind of story that we are pleased to share...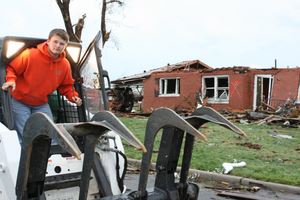 Sean Brady is a Camdenton High School grad, currently enrolled at Missouri S&T. There was nothing in Sean's life that could have prepared him for what he saw arriving in Joplin the morning immediately after the tornado tore through the city. As Sean drove through Joplin moving closer and closer to the site where the tornado touched down, he was stunned by the damage--particularly along Rangeline Street.
Immediately stepping up to the plate, despite his shock, Sean unloaded his Bobcat (a type of tractor/heavy utility machine) and started looking for opportunities to assist others, going house-by-house and street-by-street, offering help to anyone who needed it. Sean assisted people with anything they needed, including turning cars right side up, removing trees and other debris, and moving other misplaced objects.
On one decimated street, Sean came across elderly man wondering aimlessly amidst the rubble of what used to be his home. When Sean asked the man how he could help, he discovered the man was diabetic and in desperately need of his medication.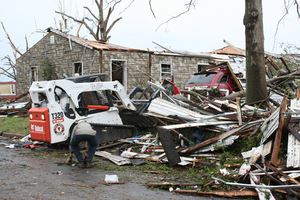 Both the diabetes medication and all of the gentleman's money was in a chest of drawers, lost amidst a massive pile of debris. Sean spent over an hour, carefully moving debris in an effort to help locate the man's medications and money. He had looked almost everywhere, and was going through the last fallen wall of the man's house when he finally spotted the chest under a pile of bricks.
Burrowing under the debris, Sean retrieved the medication and the money. As he handed it over, the man hugged Sean and began to weep uncontrollably.
Sean Brady said, "I will never be the same."
Both Sean and his dad, Ric Brady are deeply committed to community service. Ric owns several businesses in the Lake of the Ozarks area, and also serves as a reserve deputy sheriff. The father and son team have already made three trips to Joplin since the tornado to continue their relief efforts.
After an article about Sean Brady and his Joplin relief efforts ran on LakeNews.com,
someone commented,
"I would like to say if the rest of the world was like this family we could get alot accomplished. Thanks to the Brady's for their help in time of need. Thumbs up..."
Here at Aaron Sachs & Associates, P.C., we are also deeply committed to community service. We give a huge and deeply felt thanks to Sean Brady for his huge heart and dedication to helping those in need. He sets an amazing example to the entire community, especially to our children, of how one person can indeed make a difference.
Sean--we honor you for being one of Joplin's heroes, and we are proud to be your neighbor.
Attorney meetings by appointment only