Two people were taken to Skaggs Regional Medical Center in Branson last Friday after being injured in an ATV accident. The Missouri State Highway Patrol reported that Joseph Schall, 55, suffered serious injuries and Michelle Schall, 16, suffered minor injuries.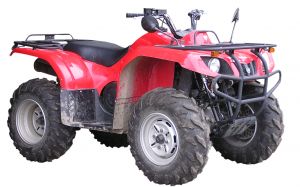 The accident happened at 7:10 p.m. Friday on Panorama Point Road four miles northeast of Blue Eye. Apparently, Joseph Schall was backing out of his driveway when the ATV somehow ran off the road and overturned. Both passengers were thrown off and injured. The police noted that neither was wearing a helmet at the time, although helmet use is required by Missouri law for anyone under 18.
Branson ATV accident lawyers want to point out that an ATV accident can be just as dangerous as an auto accident or motorcycle accident. All Terrain Vehicles are increasingly popular, and with that popularity come the inevitable accident statistics: the US Consumer Products Safety Commission reported 376 ATV related deaths in 2009 nationwide and 131,900 other ATV related injuries requiring emergency room treatment.
Many people use their ATV's for summer fun, and seem to treat them like a giant toy. ATVs are covered under Missouri Laws however, just like other motorized vehicles.

Causes of Branson ATV Accidents include:
• Improper driving techniques (taking an ATV training is highly recommended)
• Rollovers (ATVs are particularly prone to this if the driver takes a curve too rapidly)
• Traveling too fast for the prevailing conditions, especially on paved roads where ATVs don't navigate as well