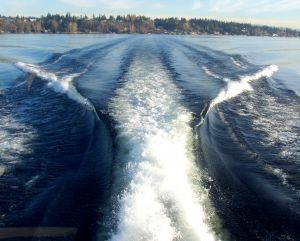 Here in Kansas City, the temperature is definitely warming up as the first day of summer quickly approaches. Over the weeks ahead, many Missouri residents will be out to enjoy our state's lakes and rivers. Missouri waterways are popular sources of recreation during the summer months, and many visitors and residents will participate in water activities from boating to floating. As Kansas City personal injury lawyers, we want to remind those partaking in water activities to keep water safety in mind: doing you will help you protect yourself and others on the water.
The Missouri State Highway Patrol is participating in a national campaign, Operation Dry Water, to help raise and promote waterway safety. Operation Dry Water focuses on reducing the operation of watercrafts while under the influence of drugs or alcohol by coordinating special patrols during the last weekend in June. Boating under the influence (BUI) is a serious offense and is punished similarly to driving under the influence. Boaters with a blood alcohol level of 0.08% or above will be arrested for BUI.
The Operation Dry Water initiative involves more than 4,500 officers from 505 different local, state and federal law enforcement agencies. During Operation Dry Water Weekend 2012, officers nationwide arrested 337 boat operators for boating while intoxicated. Twenty of those arrests were in Missouri alone. If you are drinking while on the water, remember to have a designated driver and never operate any motor vehicle when you're under the influence.
In addition to alcohol use, there are other factors that can create increased safety risks when you're on the water. For example, docks can pose a threat to boaters who don't use proper caution - in fact, a rickety or poorly wired dock can be extremely dangerous. Fire station 1 in Osage Beach has estimated that 75% of docks on the Lake of the Ozarks do not meet dock inspection requirements. To eliminate the number of unsafe docks, the Fire District has proposed an expansion of current dock inspection requirements and inspection frequency. This new proposal would require dock inspections yearly and enforce stricter safety standards when docks are built, relocated or remodeled. Safety officials want to focus increased attention on regulating and upgrading electrical systems. Be sure to have your dock inspected prior to the summer season, and keep an eye out for potential hazards (like low-hanging electrical lines).
We encourage you to get out and enjoy the water this summer, but please do so safely. When you're operating a personal watercraft, take steps to create a safe environment for yourself and others on the waterway. Always wear a personal flotation device or life jacket, avoid alcohol, be aware of other watercrafts near you, and operate your vessel at safe speeds. It's also wise to prepare a back-up plan in case of an emergency: boat with friends and/or family, and notify someone off the water of your plans. Also, always be careful around docks and be aware of electrical risks. Finally (and importantly), remember to drink responsibly.

Missouri's beautiful waterways are a fun way to keep cool on hot summer day. Taking a boating safety course can help ensure that you're well-prepared, leaving you able to relax and have a good time on the water. (For more information about Missouri boating safety courses, click here to visit the website for the Missouri Highway Patrol's Water Patrol Division.)
Aaron Sachs & Associates, P.C. is a personal injury law firm that represents auto accident victims in the Kansas City area. We represent clients in Independence, Lee's Summit, Blue Springs, Liberty, Higginsville, Lexington, Odessa, Warrensburg and Holden. To contact our office, call us toll-free at 1-855-695-1426, or click here to submit our convenient online form.
Attorney meetings by appointment only