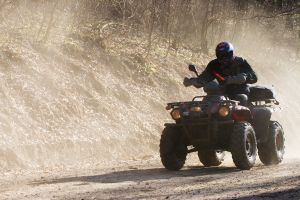 ATVs and four-wheelers are popular recreational vehicles here in Missouri, especially during the summer months. However, our Springfield personal injury lawyers want to remind you that ATVs and four wheelers can create certain safety risks, and these vehicles must be operated with extreme caution. Recently, several ATV accidents have occurred right here in Missouri, some resulting in serious, life-threatening injuries.
On June 3rd in Washington County, a married couple and their young son were riding an ATV when the vehicle swerved off the road. In response, the driver overcorrected, causing the ATV to overturn and eject all three occupants. The child, 3 year-old Aiden Whitehead, died at a nearby hospital, while both parents suffered minor injuries.
Then, on June 5th, another serious ATV accident occurred in Camden County. According to the Missouri State Highway Patrol, a 28 year-old woman was operating the ATV with two young children on board. When the woman failed to negotiate a turn in the roadway, the ATV flipped over and rolled down an embankment. One passenger, 7 year-old Budde Salisbury, was life-flighted to University Hospital in Columbia with serious injuries. The other two occupants - the driver and a 9 year-old girl - suffered moderate injuries and were taken from the scene by ambulance. No one on board was wearing a safety device.
Nationwide, there were 327 reported ATV-related deaths and an estimated 107,500 emergency room treated injuries in 2011, according to ATVSafety.gov. In Missouri, there have been 78 reported ATV deaths between 2008 and 2011, and 70 of those deaths were children under age 16. In fact, the majority of ATV-related fatalities occur among children under 16, whether passengers and drivers. Remember, some ATVs aren't designed to be operated by young riders, or to carry more than one person at a time.
Here's the good news: most ATV accidents can be prevented through proper training and safety precautions. The state of Missouri offers free ATV training courses to individuals who purchase ATVs and to their immediate family members. The training is provided by the company you purchase the ATV from and involves a one-day, hands-on program conducted by a certified instructor. It covers pre-ride inspections, starting and stopping, turning, operating on hills, emergency stopping and swerving, and riding over obstacles. Importantly, these courses also address local laws, safety techniques, and the proper use of riding gear.
When operating or riding on an ATV, safety gear is a must. One particularly essential piece of gear is a helmet, which can help prevent serious head injuries. The helmet should fit properly and be certified by the Department of Transportation, the American National Standards Institute or the Snell Memorial Foundation. Eye protection also provides important protection from flying objects or debris (rocks, bugs, etc.), which can cause injuries or impair your vision. Finally, gloves, boots, long-sleeved shirts and long pants are often an effective way to safeguard yourself against the elements.