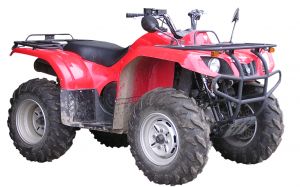 Summer is just about here, and many Missourians are already enjoying the numerous outdoor activities that are popular in our state. In this post, our personal injury lawyers share some information and safety tips related to all-terrain vehicles (ATVs).
Facts about ATVs, accidents and injuries
In the U.S., approximately 800 deaths and 135,000 injuries occur each year as a result of ATV accidents.
Around one-third of ATV-related deaths and injuries involve children under age 16. Between 2000 and 2010, the number of children killed in off-road vehicle accidents rose by 88%.
ATVs are especially prone to rollover accidents, especially when they encounter unexpected obstacles or uneven terrain. Since ATVs can weigh up to 800 pounds, these rollover accidents commonly cause serious, life-threatening injuries.
ATVs and Missouri law
Under state law, all ATV riders (whether operators or passengers) under age 18 must wear a helmet.
ATVs may not be used on highways, except for agricultural or industrial purposes.
No one under age 16 may operate an ATV, except when accompanied by a parent or when on land owned by a parent.
All ATVs must be titled and registered, with the registration to be renewed every three years. No one under age 16 can legally register an ATV.
ATV safety tips
Always wear appropriate protective gear. Wearing a helmet certified by the U.S. Department of Transportation is the most effective way to reduce your risk of sustaining head injuries in an ATV accident. In addition, protective gear like boots, goggles, and gloves can help protect you from cuts, abrasions and other injuries caused by outdoor debris.
Don't allow children to ride adult-sized ATVs. According to the U.S. Consumer Product Safety Commission, children under 16 are twice as likely to be injured when riding adult ATVs compared to youth ATVs. Many safety experts recommend that parents prohibit young children from operating ATVs because they lack the necessary knowledge, strength, size and cognitive ability.
Don't carry a passenger - or ride as a passenger - on an ATV designed to carry a single rider. Most ATVs are only meant to carry one rider - and ATVs are meant to be ridden interactively, so that the vehicle responds when the operator shifts his or her weight. A passenger can alter the distribution of weight and limit the operator's ability to control the vehicle.
Avoid riding an ATV on paved roads, unless you are crossing a road legally and safely. ATVs are meant to be driven off-road, and they can be tricky to maneuver on pavement, making accidents more likely.
Take an ATV safety course. Whether you're an experienced ATV rider or you're just learning, a safety course can help you build and develop safe riding skills. The ATV Safety Institute offers a free online E-course along with information about hands-on courses offered in your area.