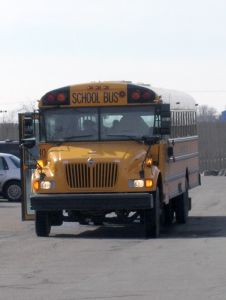 On Friday, a Butler County school bus driver was arrested on an outstanding warrant during a traffic stop that happened as he transported the Poplar Bluff varsity soccer team to an Illinois game. According to the Southeast Missourian, 33 year-old Bobby Joe Tippit was pulled over for speeding on Interstate 57 near the Missouri - Illinois border, as the bus was en route to Anna-Jonesboro Community High School in Anna, IL. The speed limit on I-57 is 70 in Missouri, but it drops to 65 in Illinois. Tippit was reportedly driving 75 miles per hour when he was stopped.
The Pulaski County Sheriff's Department, the officer who stopped Tippit discovered an outstanding warrant for failure to appear on a charge of drug paraphernalia possession. The warrant came from the mid-2000s, the Missourian reports, and it was issued in DuPage County, which is near Chicago. Tippit was taken into custody and remains incarcerated at the Tri-County Justice and Detention Center. His bond has been set at $6,000.
Law enforcement officials report that Tippit was cooperative and that he expressed concerns about the students on the bus. The Poplar Bluff soccer team waited with an assistant coach, and the Anna-Jonesboro school district sent another driver to retrieve the team. Poplar Bluff then sent a driver to Anna to bring the students back home.
Chris Hon, superintendent of Poplar Bluff Public Schools, says Tippit's warrant did not show up on the fingerprint background check that is required of all newly hired employees in the district. Hon says the district will investigate how the omission occurred. WSIL TV in southern Illinois reports that Tippit since has been fired. It's unclear how long he had worked for the district.
In Missouri school districts, effective 2005, bus drivers must pass a drug test and a background check before they are hired. Also, they must obtain a school bus endorsement on a commercial driver's license (CDL), which requires a separate written exam and driving test. Missouri law says that "No person shall operate any school bus owned by or under contract with a public school or the state board of education unless such driver has qualified for a school bus (S) endorsement and complied with the pertinent rules and regulations of the Department of Revenue." (Section 302.272, RSMo). Along with the CDL, the school bus endorsement must be renewed every six years for drivers under age 70 - drivers over 70 must renew their licenses annually.
Hon says Tippit met all of the applicable state requirements before he went to work for the district.

At Aaron Sachs & Associates, P.C., our personal injury lawyers represent auto accident victims in Cape Girardeau, Missouri and throughout the surrounding areas, including Poplar Bluff, Jackson, Delta, Gordonville, Oak Ridge, White Water, Sikeston, Dexter and Potosi. If you or a loved one has been injured in a Missouri crash, we may be able to help you. To schedule an appointment for a free initial consultation, please call our office toll-free at 1-888-777-AUTO, or visit our website to contact us online.
Attorney meetings by appointment only