Two elementary school students injured in KCK school bus crash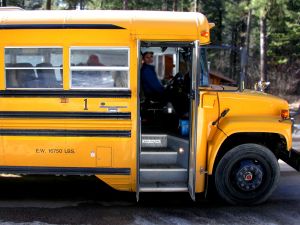 Two Kansas City elementary school students are left injured following a crash involving a minivan, a car and a school bus, reports KCTV 5. The accident, which occurred at around 6:00 p.m. at the intersection of 38th Street and Leavenworth Road, also injured two adults, both occupants of the smaller passenger vehicles involved.
Witnesses report that the school bus was in the process of making a left turn when a car proceeded through the intersection, failing to stop at the light and yield right of way to the bus. Instead, the car drove directly into the side of the bus, pushing the bus into the opposite lane, where it was struck head-on by the minivan.
Marvin Brantley, a front-seat passenger in the minivan, ran to assist the crash victims even though he too was injured in the collision. As he walked toward the bus, intending to assist the driver with evacuating students, he noticed the driver of the car appeared to be badly injured. When he approached the car, he saw that it had caught fire.
"I was pulling him out and he was stuck and another guy came to help me and then they told me to back away from car and it was on fire," Brantley said. "I didn't want to leave him in the burning vehicle, so I kept on pulling him and got him out of the vehicle and dragged him over into the intersection."
Brantley reportedly pulled the man to safety while the school bus driver evacuated about 30 Eisenhower Elementary School students who were being transported from after-school activities. The bus driver then used his fire extinguisher to put the car fire out. Two students on the bus were injured, one seriously, according to KCTV 5. Both were hospitalized and are expected to recover.
No details have been released concerning what factors may have contributed to the crash.
On the same day, thirteen children were injured in Victorville, California when their school bus was struck by a U-Haul truck backing out of a driveway. The Los Angeles Times reports that the bus driver saw the truck and tried to avoid the crash, but the truck collided with the back end of the bus, knocking the bus onto its side. Two children sustained serious injuries.
Every day, an estimated 24 million students ride American school buses, which travel a combined four billion miles nationwide. School buses are one of the safest forms of travel, with a fatality rate of 0.2 deaths per every 100 million miles traveled. By comparison, the fatality rate in automobiles is about eight times higher. In addition, the National Highway Traffic Safety Administration (NHTSA) says school buses contribute to roadway safety by keeping an estimated 17.3 million cars of roadways every single morning.

According to NHTSA, 1,386 people died in school transportation-related crashes between 2000 and 2011 - that's an average of 139 fatalities each year. However, occupants of school transportation vehicles only account for about 8% of those deaths. Non-occupants - like pedestrians and bicyclists - represent around 20% of school-transportation fatalities, and occupants of other vehicles represent approximately 72%.
At Aaron Sachs and Associates, our personal injury lawyers serve the victims of Missouri trucking accidents. To contact our office, call us toll-free at 1-888-777-AUTO, or visit our website. Offices in Springfield, Joplin, Columbia, Cape Girardeau and Kansas City.
Attorney meetings by appointment only
Posted By
Aaron Sachs & Associates, P. C.
Categories: