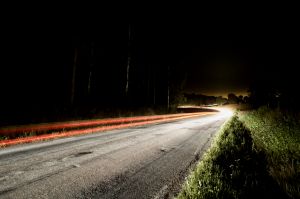 On Tuesday, one person was killed and five others were injured when a suspected drunk driver ran off the road and crashed into a group of people attending a backyard Halloween party. It happened in Houston, Texas: television station KRTK reports that a Chevrolet Camero ran a stop sign at a three way intersection, left the roadway, jumped a steep ditch and drove through a wooden fence into a private backyard, where the party was underway.
38 year-old Ana Sylvia Borjas was pronounced dead at the scene. Five other partygoers sustained various injuries when they were struck by the vehicle: two were airlifted to Memorial Hermann Hospital; one was taken by ambulance; and one - a four year old girl, who was thrown from the arms of one of the other victims - sustained minor injuries.
Meanwhile, as uninjured partygoers ran to assist those who had been struck, the driver of the Camero fled the scene on foot. Following the crash, the son of the Camero's owner contacted police to report the vehicle stolen: however, when officers questioned the man, he eventually admitted that he had loaned the vehicle to a friend. Law enforcement officials continue to search for the driver, 20 year-old Johnathan Hudson, who has been charged with leaving the scene of an accident causing injury.
Harris County deputies suspect that Hudson may have been under the influence of alcohol. "There (are) signs that alcohol was a factor in the crash," said Sergeant Susan Cotter told television station KHOU. "The vehicle smells like alcohol."
Sadly, drunk driving accidents cause serious, life-threatening injuries throughout all year round. However, given the festivities and pedestrian traffic associated with Halloween, impaired drivers can be especially deadly at this time of year. The National Highway Traffic Safety Association (NHTSA) reports that in 2010, 41% of U.S. highway fatalities involved drivers with a blood alcohol content above the legal limit (0.08%).