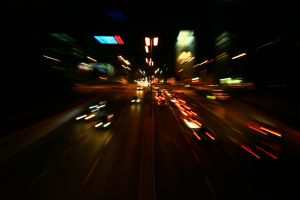 A New Orleans father has been charged with vehicular homicide in connection with a drunk driving crash that killed his son and injured four other passengers. The Times Picayune reports that 28 year-old Adrian Antoine Jr. was also charged with three counts of vehicular negligent injury for causing the accident on Interstate 10 last summer.
Local law enforcement officials say Antoine Jr. was under the influence of alcohol when he lost control of his SUV on the evening of July 21. The vehicle struck a curb and rolled over multiple times. No one in the SUV was wearing a seat belt, and three of its occupants were ejected: Antoine Jr.; 8 year-old Paris Henry; and 8 year-old Adrian Antoine III, who was pronounced dead at the scene. Antoine Jr. suffered fractures, broken ribs and bruised lungs. Henry, who was seated on a crate in the vehicle's floor board, sustained numerous injuries, including a fractured skull and a blood clot in her brain. The other two passengers - Antoine Jr.'s wife, Rayonne, and 9 year-old London Henry, were also injured in the crash.
A blood test performed at the hospital revealed that Antoine Jr.'s blood alcohol content (BAC) was 0.09%, above the legal limit of 0.08%. If convicted on the vehicular homicide charge, he could face to 30 years in prison, with at least 36 months to be served without parole, probation or a suspended sentence.
When drivers choose to get behind the wheel after they've been drinking, they can face numerous legal and financial penalties. In addition to these criminal consequences, impaired drivers may also face civil liability when they cause accidents resulting in injuries and fatalities. To learn more about drunk driving accidents and Missouri law, click here.
Basic facts about driving under the influence:
• The average drinker requires about one hour to metabolize one alcoholic drink. Only time can make someone sober - drinking coffee, eating, or talking a cold shower will not make you sober up any faster.

• Drivers with BACs as low as 0.2% can have delayed reaction times and impaired driving abilities. The likelihood of a crash increases dramatically when a driver's BAC reaches 0.05%, and rises even more rapidly after reaching the legal limit of 0.08%, according to the Insurance Institute for Highway Safety.
• About three-quarters of drunk drivers involved in fatal accidents failed to wear their seat belts.
• In 2010, 211 young passengers under age 14 died in crashes caused by drunk drivers. Over half of those children were riding in the same vehicle as the drunk driver, reports the Centers for Disease Control and Prevention.
At Aaron Sachs & Associates, P.C., our personal injury lawyers represent the victims of Kansas City auto accidents. We also serve clients throughout the surrounding areas, including North Kansas City, Independence, Lee's Summit, Blue Springs, Greenwood, Liberty, Excelsior Springs, Gladstone, Butler, Belton, Peculiar, Raymore and Clinton. Our attorneys work on a contingent fee basis, and we offer a free initial consultation to discuss your case. If you'd like to schedule an appointment, please call us toll-free at 1-888-777-AUTO, or visit our website.
Attorney meetings by appointment only