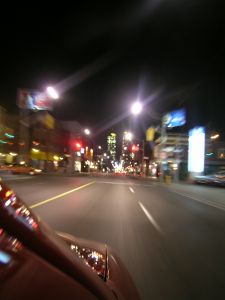 A probate judge has approved a $4.1 million settlement to the estate of a Connecticut teenager who died in a high speed crash with a police car. The Milford-Orange Bulletin reports that 19 year-old Ashlie Krakowski was killed in June 2009 when her vehicle was struck by a police cruiser that was traveling over 90 miles per hour without its emergency lights activated. Krakowski, who was riding as a front seat passenger, was ejected from the vehicle and thrown 20 to 30 feet into an embankment. David Servin, 19, who was driving Krakowski's vehicle, also died in the crash.
The driver of the police car, Officer Jason Anderson, 37, was reportedly traveling 94 miles per hour in the moments leading up to impact, which happened as Servin was attempting a left turn. Anderson was not responding to an emergency call, but instead was answering a "mutual aid" call to a "potential melee involving several hundred people" at a nightclub only a few miles from the site of the collision. A dashcam video (captured by a police cruiser behind Anderson's car) led to allegations that the police officers were racing that evening. The other officer was never formally charged with any crimes in connection with the crash.
Following the accident, an autopsy revealed that Servin's blood alcohol content was) 0.14%, nearly twice the legal limit for an adult. In Connecticut, Servin's BAC was actually seven times the legal limit for someone under 21.
Anderson was charged with two counts of manslaughter, but in early November, he was acquitted on those charges but convicted of lesser offenses: misconduct with a motor vehicle and reckless driving, in connection with the deaths of Krakowski and Servin. He could face up to 10 years in prison when he is sentenced in January. His attorneys are currently attempting pursuing a motion to have the verdict overturned.
Krakowski's estate settled its wrongful death lawsuit on November 26. The settlement provides $3.5 million to be paid by Officer Anderson and the city of Milford's insurer; and $500,000 to be paid by the administrators of Servin's estate (his parents, via their insurer). In March, Servin's parents received a 2.5 million settlement from Anderson and the city of Milford.
To be successful in a wrongful death case in Missouri, the plaintiff will need to establish the following:
• That he/she is related to the decedent (as required by state law);
• That the defendant was negligent or reckless; and
• That the defendant's negligence or reckless caused fatal injury to the decedent.
At Aaron Sachs & Associates, P.C., our personal injury lawyers represent the victims of Missouri car accidents. We serve clients in Columbia, Jefferson City, Centralia, Ashland, Kirksville, Fulton, Holts Summit, Boonville and Moberly. Our attorneys work on a contingent-fee basis, and we offer a free initial consultation to discuss your case. If you or a loved one has been injured in a Missouri crash, call us today to find out if we can help. You can reach us toll-free at 1-888-777-AUTO, or visit our website to contact us online.
Attorney meetings by appointment only