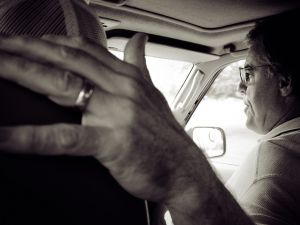 According to the National Highway Traffic Safety Administration (NHTSA), older drivers account for about nine percent of the general population, but they represent approximately 14 percent of all auto accident fatalities, and about 17 percent of pedestrian fatalities. As drivers age, they may find that changes to sight, hearing and reflexes can hinder their abilities behind the wheel, and it's common for their loved ones to worry about their safety. However, talking to senior drivers about these issues isn't always an easy task. "People have been driving their whole life and have trouble believing they're incapable of continuing," Richard Nix, executive director of Agingcare.com, told ABC News. "They feel like their independence has been taken away."
So, how do you know when it's time to bring up the subject? Here are some common warning signs for senior drivers, courtesy of SeniorDriving.AAA.com:
• Receiving two or more traffic tickets (or warnings) within the past two years
• Being involved in two or more collisions within the past two years
• Confusing the gas and brake pedals
• Disregarding or missing traffic signals
• Having difficulty remaining in his/her lane
• Getting lost or confused easily, even in familiar areas
If you're seeing these signs, it may be important to have a discussion about safety with your senior driver. Here are a few basic tips:
• Be straightforward and respectful. Remember that these conversations are uncomfortable for all parties involved, and - understandably - they can make senior drivers defensive. Stay positive and supportive, and don't make generalizations about older drivers. Miriam Zucker, a geriatric care manager, recommends starting with something like this: "Dad, you've been a safe driver for 60 years, but with your cataracts, I know it's harder for you to drive at night. If you got hurt or hurt someone else, that would be awful."
• Don't involve the whole family in the conversation. Inviting a large group of family members to an "intervention" style discussion can make an older driver feel targeted, ganged up on, and alienated. Keep the group small and non-threatening.
• Don't violate your loved one's privacy. Don't talk with a driver's doctors, friends or neighbors about your safety concerns without asking permission first.
• Don't jump to conclusions. Avoid making accusations and assumptions without knowing all the specific facts. Stick to what you know - for example, that a driver has a medical condition that could impair his or her driving skills.
In Missouri, drivers over age 70 are required to renew their driver's licenses in person every three years, and they're required to pass a vision test every six years. The Missouri Department of Motor Vehicles accepts reports of potentially unsafe drivers, but only from family members. If the DMV determines that a complaint is legitimate, the agency may request additional information from the reported driver, and it will determine if a screening or assessment is warranted.
At Aaron Sachs & Associates, P.C., our personal injury lawyers serve auto accident victims in Cape Girardeau, Missouri and throughout the surrounding areas, including Jackson, Delta, Gordonville, Oak Ridge, Whitewater, New Madrid, Sikeston, Scott City and Chaffee. Our attorneys work on a contingent-fee basis, and we offer a free initial consultation to discuss your case. If you'd like to schedule an appointment, call our office toll-free at 1-888-777-AUTO, or visit our website.
Attorney meetings by appointment only