Bus safety is a growing concern in Kansas City, Missouri and throughout the country: in response, several state and federal agencies have taken numerous actions to increase passenger safety and reduce the risks of bus accidents on our nation's roadways.

FMCSA: Surprise Bus Inspections in 2011
Last year, surprise inspections were conducted by the Federal Motor Carrier Safety Administration (FMCSA) and its state and local law enforcement partners, which impacted a number of commercial passenger carrier busing companies. The Administration conducted nearly 3,000 of these surprise inspections, taking roughly 300 unsafe buses and drivers off the road.
"Safety is our number one priority," said Secretary LaHood. "We will continue to use every resource at our disposal to shut down unsafe passenger bus companies that place motorists at risk and remove drivers from our roads who put passengers in harm's way." The coordinated enforcement strike force issued out-of-service violation citations to more than 150 drivers and more than 260 vehicles.
In addition to these inspections, state safety investigators and the FMCSA initiated nearly 100 full safety compliance reviews on these commercial passenger bus companies. These reviews are meant to determine the safety rating of a passenger carrier bus and company.
Our Jackson County injury attorneys understand that many residents and visitors rely on bus transportation to travel the country. But with low-fare busing options comes an increased risk of a traffic crash. Drivers often work long, hard hours with little sleep in between journeys. Maintenance and other safety standards may be bypassed or ignored. And the buses tend to be older.
"Working side-by-side with our state and local law enforcement partners, we can ensure that every passenger bus company and driver operates as safely as possible," said FMCSA Administrator Anne S. Ferro. "These strike force activities are one of the many effective tools we use year-round to raise the safety bar for commercial buses and drivers on our nation's roadways."
Missouri State Auditor Announces Audit of Highway Patrol's Bus Inspection Procedures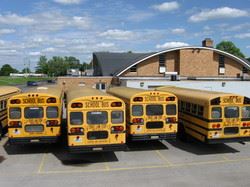 As most Missourians know, a 2010 accident in Gray Summit sparked a lengthy investigation by the National Transportation Safety Board (NTSB): the crash involved a passenger pickup, a tractor trailer, and 2 school buses from St. James. After 17 months, the NTSB reported that the accident was caused by the teenage pickup truck driver, who sent and received multiple text messages in the minutes leading up to the initial collision. The report also found fault with the 2 bus drivers, who were unable to stop in time.
However, one aspect of the report hasn't gotten so much press - namely, the NTSB's criticism of Missouri bus safety:
• The report identified problems with the braking systems in both buses, and included photos of a leaking master cylinder, corroded and leaking brake lines, and cracked brake pads. While these problems didn't contribute to the crash, they are obviously a subject of concern.
• On the same day as the Gray Summit accident, another St. James bus crashed in a Washington, Missouri parking lot, colliding with 3 parked cars and a garage. (No students were on board: the driver was the only occupant.) Upon investigation of the accident scene, police observed leaking brake fluid, and authorities now believe the bus's braking system caused that accident.
• The Missouri Highway Patrol directs all bus investigations in Missouri, and it requires every school bus to be inspected twice yearly: once by a certified garage, and once by the Patrol. All 23 St. James bus had passed inspection only 10 days before these 2 accidents occurred. The inspections were conducted by Ray's Tire in St. James (that garage's inspection certificate has since been revoked for 1 year). The Highway Patrol itself inspected - and passed - the St. James fleet 5 months before the August 2010 accidents.
This week, State Auditor Tom Schweich announced that a formal audit of the Highway Patrol's bus inspection procedures has begun. In particular, the audit will focus on the mechanical problems with the St. James buses, and poor maintenance services (performed by Copeland Bus Service).
The Bottom Line
Each year, it is estimated that motorcoaches carry roughly 750 million passengers around the country. On a positive note, passenger fatalities have decreased from 57 in 2004 to 46 in 2009 - a 19% reduction. But there is still much that can be done to improve safety conditions for all bus passengers.
As passengers (or parents), it's important to investigate who you (or your children) are riding with, as many companies have experienced serious accidents involving passenger injury, as in last year's fatal bus accident in New York. We hope the resources below will help. Our Kansas City injury attorneys urge you to contact a lawyer immediately in the wake of a bus accident. Competing claims and multiple victims can make these some of the most complex injury lawsuits to handle.
Additional Resources
FMCSA: Passenger Carrier Information For Consumers
Missouri Highway Patrol: Motor Vehicle Inspection Division
Missouri Highway Patrol: School Bus Safety
Attorney meetings by appointment only