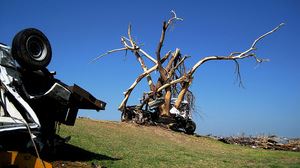 The attorneys and staff at Aaron Sachs & Associates, P.C. remain dedicated to supporting tornado relief efforts in Joplin. We've been working with the people of Joplin for over a decade, through our permanent Joplin office, and we're proud to be part of such a strong, resilient community. In that spirit, our office is pleased to be a sponsor of "Seven Homes in Seven Days," Extreme Makeover: Home Edition's recent Joplin project. The two-hour special will air this Friday, January 13 at 7:00 pm on KODE.
"It is our longstanding commitment to be an active part of our community, and this has never been more important than during this time of crisis," Sachs says.
The episode was filmed over the course of a week back in October. Sam Clifton, president of Millstone Custom Homes, led the project, aided by 21 builders with the Home Builders Association of Southwest Missouri (along with seven designers, 21 builders, and nearly 14,000 volunteers). The "big build" - the construction of seven homes - was a first for Extreme Makeover, but Clifton said he always knew the Joplin project would be special. "There was no way we could do just one house," Clifton said back in August. "This will be a multi-style build...[and it] will be about the families, the heroes. It will be much more than home building."
Seven lots were donated by the city of Joplin, and the homes were designed to reflect seven different American architectural styles. Mark Simpson of the Home Builders Association said that the project "show[s] what Joplin is made of. I think this will be the point where the rebuilding of Joplin truly takes off."
The May 22 tornado demolished nearly 8,000 Joplin residences. The seven families chosen for this episode include those who lost children and friends along with their homes. They were sent on a vacation to Disney World in Orlando, Florida during the build. (To learn more about these families, click here.)
The Joplin project represents the 200th and final episode of the series, which has been inspiring audiences for nine seasons. Host Ty Pennington has said that the Joplin build was a truly a special experience, with volunteers working tirelessly around the clock. "I'm blessed to have the job where you can lead an army of good will that really does make positive change in communities all over the nation," Pennington said in October. "But this is the biggest positive change we have ever been part of and so I am so glad we can be in Joplin."
Designer Paul DiMeo agrees: in a recent interview, he said that camera crews filmed enough powerful footage in Joplin to create a season's worth of episodes. "They've had a hard time editing it down to two hours," DiMeo said. "You know, I heard hundreds of stories, walking around during the time we were there, some horrible stuff. This thing took out a third of the city in 30 minutes." Producer Diane Korman was also moved by the outpouring of volunteer support in Joplin and the generosity of its people: "It says so much that people care about Joplin. I believe Joplin is what community is all about."
Tune in to KODE at 6:00 pm this Friday to watch a local "Behind the Scenes" special about the "Seven Homes in Seven Days" project, and stay tuned to watch the episode itself at 7:00.
Joplin tornado damage photo courtesy of flickr.com: click here to view the license terms.
Aaron Sachs & Associates, P.C. is proud to be a member of the Joplin community. If we can assist you with a car accident injury case, a workers' compensation claim, or a social security disability claim, please contact our office at 417.627.0066 or 1-888-777-AUTO.

Attorney meetings by appointment only