As those of you who read this blog are aware, the Joplin auto accident law firm of Aaron Sachs & Associates, P.C. has been quite active in Joplin tornado relief, doing everything we can to assist the people in our community who were affected by May's massive tornado. However, we are not alone in this effort. We have been gratified to see the response from people all over the country and the world, and have written about several people who have gone above and beyond to help Joplin in this blog.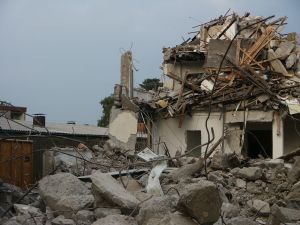 We are now pleased to let all of you know that volunteers from MATA (the Missouri Association of Trial Attorneys) are heading back to Joplin next week.
They were previously in Joplin for ten days in June, assisting citizens with various legal matters. MATA volunteers will be offering various types of free assistance, including assistance with getting on government relief program, insurance claims, and more.
MATA informs us that they are fully staffed with volunteers for this trip to Joplin, but will probably be heading back to our city on a regular basis, as long as there is still a need for their assistance. Following is their press release:

For Immediate Release:
Emergency Response Team volunteers from the Missouri Association of Trial Attorneys have continued to take calls for help daily since their 10-day deployment to Joplin ended in June, so volunteers are returning to the city to assist those who continue to be affected by the May 22 tornado.
Attorney volunteers will be in Joplin Aug. 17-18 at 705 Illinois, Bldg. A, Suite 6, from 9-5 daily, as part of a partnership with The American Red Cross. Those affected by the storm can get help with insurance, housing or consumer issues.
• Assistance with insurance claims (life, medical, property, etc.),
• Assistance with government relief programs,
• Counseling on landlord-tenant and other housing problems,
• Assistance with home repair contracts,
• Assistance in consumer protection matters, remedies and procedures,
• Counseling on mortgage foreclosure problems, OR
• Replacement of important legal documents destroyed in a disaster.
Walk-ins will be accepted, or you can make an appointment by phoning Jeannie Brandstetter at 573-635-5215 or 573-230-8528. The group plans to make regular returns to the city as long as the need continues.
This program operates through a memorandum of understanding with the Red Cross and MATA members do not profit from this service financially. If a long-term legal relationship is needed, a MATA member can take the case pro bono or will refer the case to a local bar association.
Please let me know if you have any questions - thanks!
Jeannie Brandstetter
Public Affairs Coordinator
Missouri Association of Trial Attorneys
573.635.5215
Joplin car crash lawyers want to thank Jeannie Brandstetter, the Public Affairs Coordinator for the Missouri Association of Trial Attorneys, for all her hard work in setting this up and letting people know what is going on. There is still much work to be done in Joplin, and many people needing assistance with housing, federal relief, and other matters. For more information about how you can participate in Joplin relief efforts, please see the community service page of our Joplin Auto Injury website.

Attorney meetings by appointment only