Hit and run accidents are in the news on an almost daily basis. Our Joplin, Missouri car accident attorneys were astounded at the number of headlines, just from the last week: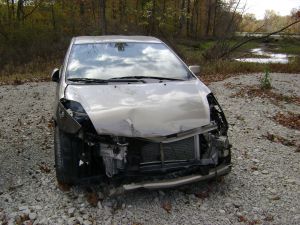 " Deadly Hit and Run Driver Speaks"--June 8
" Pedestrian dies in Denver hit-and-run crash"--February 21
" Florida Highway Patrol seeks hit-and-run driver who fled fatal crash"--February 20
" Mother of 1-year-old killed in hit and run after getting out of her car"--February 20
" Hit-and-run driver drags man in Richmond"--February 20
"Missouri State Highway Patrol investigating hit-and-run on Highway 34"--February 16
These headlines come from all around the country, and in fact one Google search turned up many more than these. Whether the perpetrators of these crimes are drunk drivers, or people who simply panic, one thing is certain--responsibility for one's actions seems to be on the decline--which, accordingly, means that hit and run accidents are on the rise.
Between 1999 and 2001, the number of hit and runs jumped 19%. As if that wasn't bad enough, the rate of hit and run car accidents has been rising steadily since 2003. These auto accidents are not limited to vehicle against vehicle collisions: they just as frequently involve unsuspecting pedestrians who have literally no way of avoiding the accident or protecting themselves. One out of every 5 pedestrians killed die from a hit-and-run, according to the National Highway Traffic Safety Administration. (NHTSA)
What is causing this hit and run epidemic? Our attorneys have heard various theories:
1. The economy is bad, and many people are driving without insurance, or without licenses. The AAA Foundation of Traffic Safety found that 21% of all fatal crashes from 1993-1999 involved drivers with no valid license. The study also found that unlicensed drivers are 66.36 times more likely to be a hit-and-run driver than a licensed driver.
No one actually knows how many unlicensed drivers are currently on the road nationwide, or even in Joplin, but the national numbers are estimated in the millions. This leads to the second possible reason:
2. The high number of hit-and-runs may be affected by the high number of illegal immigrants who are unlicensed. If an illegal immigrant stopped after the accident, he or she would be risking deportation when the police arrived.
3. Penalties for driving under the influence have gone up in many states, and drunk drivers know if they stop, they will lose their license or possibly even face jail time. If someone with a suspended license has an alcohol-related auto accident, that driver is already implicated in 2 crimes. (Fleeing the scene adds a third.)
Since 1991, alcohol-impaired driving fatalities have declined by 26%. This correlates directly with the enactment of stricter and stricter penalties for DUIs, such as license revocation, enhanced penalties for repeat offenders, and large fines. However, these stricter drunk driving laws also appear to make impaired drivers more likely to flee the scene of an accident, hoping they will never get caught.
Legal loopholes also contribute to this mess: if a drunk driver flees the scene of an accident, and sobers up before being caught, he/she will actually incur fewer penalties than if they stayed on the scene.
Our Joplin car accident lawyers would love to see this particular loophole closed in Joplin, Neosho, Carthage and the rest of Jasper County.
Hit and run is a crime in Missouri, anywhere from a class A misdemeanor to a class D felony. If you have been involved in a Joplin hit and run auto accident, see an experienced attorney to see what can be done to protect your rights.
Attorney meetings by appointment only