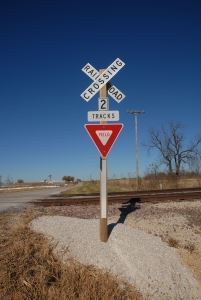 Collisions between cars and trains are very serious: because of the speed and weight of an oncoming train, these accidents cause serious injuries and fatalities more often than not. Typically, the occupants of the car are the most vulnerable, but if a train is carrying passengers, a collision can pose a risk to those occupants as well. It is imperative to follow safety precautions to avoid Missouri car - train accidents.
According to the Missouri Department of Transportation (MoDOT), Missouri is home to 4,400 miles of main track; 2,500 miles of yard track; and nearly 7000 crossings, or points where track intersects with various roadways. Many of these crossings are visibly marked with lights, bells, signs, and crossing arms that lower when a train is approaching: these intersections are "controlled." However, there are also several intersections - especially in more rural areas - that are "uncontrolled," meaning these crossings may only be marked with white crossbucks signs.
In recent years, several Missouri car - train collisions have occurred at uncontrolled intersections, usually when motorists drive directly into the path of an oncoming train. Sometimes this happens because drivers foolishly expect to beat the train: from a distance, trains often appear to be moving much slower than they actually are. However, a fair number of these accidents happen because drivers simply don't see the train coming.
Maybe it sounds unbelievable - after all, trains are big and loud - but without the benefits of a controlled intersection, a driver might fail to notice an oncoming train for several reasons:
• In rural areas, trains may pass through a certain crossing infrequently, or only at certain times of day: thus, residents don't expect to see a train, and they simply become accustomed to driving through the intersection without stopping.
• If your windows are up (and especially if there's noise inside the vehicle, like loud passengers or music), it is absolutely possible that you will not hear an approaching train.
• Car - train collisions are sometimes caused when a driver waits patiently for a train to pass, and is then struck by a second train coming the opposite direction, or on another track.

After recent fatal accidents at uncontrolled intersections in Greene County and Stoddard County, several local residents have advocated that certain intersections be upgraded to controlled. According to MoDOT, "Each public crossing for which lights and/or gates are requested will be evaluated and its approximate ranking toward other crossings will be evaluated. Because funds are limited, at the present time only the crossings with extreme amounts of train and vehicle traffic or other sight distance problems will receive lights/gates because the need is great."
Important Train Safety Precautions
• At controlled intersections: do not attempt to enter the tracks if the safety arm is down or the red lights are flashing. Never go around a safety arm.
• At uncontrolled intersections: always come to a full and complete stop. Look both ways before crossing.
• Do not try to outrun a train.
• Never assume train tracks have been abandoned or are not in use.
• Realize that trains are wider than train tracks: don't get too close.
• Never assume that trains will only approach the intersection from one direction. Look both ways, always. Railroad use changes.
• Never stop your car on the railroad tracks. Always stop at least 10 yards or more from a train track and don't allow yourself to get boxed in by other cars.
• Avoid allowing a car behind you to push your car into a train or onto the tracks. Always stop at least 10 yards or more from the track, put on your brakes, and turn your steering wheel to the right.
• Turn down music so you can hear the train's whistle and its engine if you are crossing tracks.
• Always look both ways when crossing a track even if the safety arm is not down and the red lights are not flashing.
• Report any non-functioning safety equipment immediately.
• Be alert to second trains (such as those following directly behind a train or approaching from the opposite direction.
If you have questions about a personal injury claim connected to a Joplin car or train accident, visit our website, or contact us at 1-888-777-AUTO to schedule a free initial consultation.
Additional Resources
• Operation Lifesaver: Rail Safety Education
• KY3: Family of victim in deadly car-train crash hopes for safer rail crossing
• MoDOT: Railroads - General Information
• Defensivedriving.com: How to Avoid Being Hit by a Train
Attorney meetings by appointment only