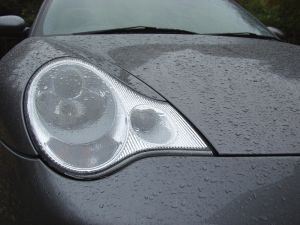 This month, a wrongful death lawsuit was filed against the estate of reality star Ryan Dunn, who died in a Pennsylvania crash in June 2011. According to the Courthouse News Service, Dunn's estate is being sued by the family of Zachary Hartwell, who was Dunn's passenger when the fatal accident occurred. Hartwell was also killed in the crash.
Last year, authorities reported that Dunn's Porsche was traveling 132 miles per hour when it left the roadway, traveled 40 feet, struck a tree, and burst into flames. Dunn and Hartwell were both pronounced dead at the scene. An autopsy determined that Dunn's blood alcohol content was 0.196% at the time of the wreck, which is over twice the legal limit of 0.08%
The lawsuit, filed in Philadelphia County, maintains that Dunn's estate is "legally liable and responsible for the negligence, recklessness and other violations committed by Ryan Dunn." It also names a local business, Barnaby's of America in West Chester, Pennsylvania, the bar where Dunn was drinking alcohol prior to the accident. Hartwell's parents allege that Barnaby's was negligent in continuing to serve Dunn when he was visibly intoxicated. At the time of the crash, local law enforcement officials declined to press criminal charges against Barnaby's, maintaining that employees served Dunn two beers and six shots over a four hour period, and that Dunn did not appear to those employees to be drunk.
In the lawsuit, Hartwell's parents request compensation to cover their son's funeral expenses, the wages he would have earned over a lifetime, and "reparation for the pre-impact fright, fear, pain and suffering." Hartwell, who was 29 when he died, was a former Navy Gunner's Mate who served two tours of duty in Iraq.

Who can sue for wrongful death?
A wrongful death action can be brought when a person's death is caused by the willful or negligent act of another individual: it is completely separate from a criminal trial. For example, an individual face a criminal charge of manslaughter and be sued for wrongful death.
Click here to read Missouri's wrongful death statute, RSMo Sec. 537.080.
Wrongful death claims are designed to compensate a deceased person's heirs and beneficiaries for their losses, which may include the following:

• Funeral and burial expenses
• Medical bills
• Loss of benefits
• Lost wages
• Mental distress
• Loss of companionship
• General damages
• Punitive damages
Of course, every case is different. If you have lost a loved one as the result of another driver's negligence, it's important to seek legal advice as soon as possible so evidence can be preserved and your case can be filed before the statute of limitations expires.
At Aaron Sachs & Associates, P.C., our personal injury lawyers represent car accident victims in Columbia, Missouri and throughout the surrounding areas, including Jefferson City, Centralia, Ashland, Kirksville, Mexico, Fulton, Lake of the Ozarks and Boonville. To schedule an appointment for a free initial consultation, please call us toll-free at 1-888-777-AUTO. You can also visit our website to learn more about our firm.



Attorney meetings by appointment only