It's no secret that when a pedestrian is hit by a vehicle, the higher the speed the higher the risk for death. According to a new study from the AAA Foundation for Traffic Safety, low speed pedestrian-car accidents in Gladstone, MO and elsewhere are a serious threat as well.
"Speed in a typical urban environment is a serious issue. It's a high risk environment but one we tend to dismiss," said Peter Kissinger, president and chief executive of AAA.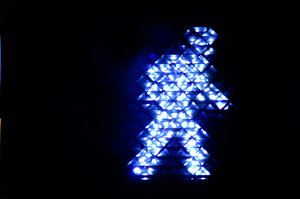 Our Gladstone, MO car accident attorneys understand how beneficial the "Impact Speed and a Pedestrian's Risk of Severe Injury or Death" study is, especially in our area where we see so many pedestrian accidents.
The study proved that the faster the vehicle is traveling, the more risks a pedestrian has for serious injury or death. What surprised most of us is that the study also concluded that once a vehicle is traveling at 15 mph, the risks increase significantly as the speed only slightly increases. For example, a pedestrian death rate doubles when the speed of a vehicle travels at just 35 mpg instead of 25 mph. We hope that all drivers will think about those risks while driving through pedestrian-dense areas.
Many officials see the number of pedestrian accidents on our roadways as "unacceptably high" even though there's been a decrease in the number of deaths in some areas. As city officials continue to push for more environmentally friendly travel and resident exercise, pedestrians will continue to flock to the roadways.
The aging population of our area is a main concern as well. According to the study, a 70-year-old pedestrian who is hit by a vehicle traveling at just 25 mph faces the same risks for death as a 30-year-old pedestrian who is hit by a vehicle that is traveling at 35 mph.
This type of study is nothing new. There have been many researchers who have looked into the effect of various car accidents involving pedestrians. This recent study conducted by AAA is one of the most usable because it's based on newly released information. Previous studies were still decades old.
Most other studies only looked into the effect of car-pedestrian accidents whereas the AAA looks into pedestrian accidents involving SUVs, vans and pickup trucks as well. This is extremely significant because 40 percent of pedestrians were killed by these larger passenger vehicles in 2009.

The study also provided officials with a few suggestions for how to reduce the risks of pedestrian accidents:
-Consider installing more speed bumps in urban and residential areas.
-Consider the use of more traffic calming techniques such as changes in roadway curvature, lane narrowing and increased enforcement efforts.
-Reduce speed limits.
We all know that speed limits aren't very popular, but rushing on our roadways takes lives. If residents were to slow it down just a little bit, we could all help to keep our on-foot travelers safe.
According to Transportation for America, there were more than 800 pedestrians killed in Missouri roadways from 2000 to 2009. These accidents cost nearly $3.5 billion. Missouri ranked in at 17 out of all 50 states for having the most dangerous roadways for pedestrians.
Most dangerous Missouri metro areas for pedestrian (2000-2009):
-Kansas City: 234 deaths.
-Springfield: 49 deaths.
-Fayetteville-Springdale-Rogers: 46 deaths.