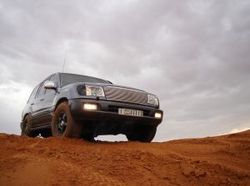 According to Cape Girardeau lawyers, Toyota Motor Sales (TMS), U.S.A., Inc., is conducting a voluntary safety recall of some of Cape Girardeau, Kennett, Poplar Bluff and other Southeast Missouri drivers' most popular vehicles - namely their RAV4 and Highlanders from model years 2007 and 2008. The recall involves a defective airbag sensor assembly which might either malfunction in a traffic accident, or deploy inadvertently and actually cause a car accident. This latest safety recall involves approximately 214,000 RAV4 vehicles and approximately 94,000 Highlander and Highlander HV vehicles.
Southeast MO car accident lawyers advise all Missourians with those vehicles to bring their cars to the dealer as soon as possible. These vehicles are equipped with two sensors in the airbag sensor assembly - if they both fail simultaneously, the curtain shield airbag could be inadvertently activated, leading to a serious auto accident.
If only one malfunctions, the airbag warning light will illuminate and the roll detection system will be suspended; however, the airbag remains available in the event of a side impact collision.
As all personal injury attorneys are aware, injuries caused by malfunctioning airbags can be very dangerous or even fatal. It is unfortunate that a feature designed to save lives in case of a car crash can actually now cause one. Fortunately, no other Lexus or Toyota vehicles are involved in this recall.

Southeast Missouri owners of Toyota vehicles involved in this recall will receive a letter by first class mail in May, 2011. For more information, contact Toyota or phone the Toyota Customer Experience Center at 1-800-331-4331.
If you have had trouble with a defective airbag on your Toyota, or any other vehicle, please report this to the National Traffic Safety Board (NTSB). It is usually information reported by consumers that leads to these sweeping recalls which are so important in saving lives, and holding auto manufacturers to a high level of responsibility.
If you have been in an airbag related auto accident and need advice, the Southeast MO personal injury law firm of Aaron Sachs & Associates, P.C. offers a free consultation with no obligation. Please feel free to contact us at our Cape Girardeau office. Attorney meetings by appointment only.
Attorney meetings by appointment only