Speeding is one of the quickest ways for you to get into a serious car accident in Macon, Marshall, Diamond or elsewhere in Missouri. According to the Governors Highway Safety Association, speeding is the cause of roughly one-third of all motor-vehicle accidents.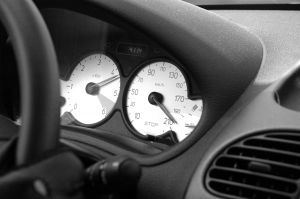 Speeding regulations were in the hands of the federal government from 1973 to 1994. Now, speed limits are the responsibility of state governments. There was always the National Maximum Speed Limit (NMSL) policy, which used to set mandatory speed limit caps on interstate highways and other similar roads. The rule was repealed back in 1995, and most states have upped their speed limits since then. Still, many motorists feel the need for speed and neglect to abide by these laws as they continue to exceed speed limits everywhere.
Our Joplin car accident attorneys understand the overwhelming occurrence of speeding on our highways. As a matter of fact, there were roughly 6.2 million reported accidents in 2004 alone that were caused by someone exceeding the posted speed limit.
Speeding is a contributor of nearly one-third of all traffic accidents in the United States. Many of these accidents could have been prevented if drivers were to abide by posted speed limits. In most cases, they would have had more time to react to dangers on the roadways. Speeding-related crashes are indeed a preventable accident.
Speed reduces the amount of time that a driver can use to effectively avoid an accident. It also increases the likeliness of an accident along with the severity of damage. Many safety advocates and local law enforcement have sought to decrease the amount of speeding on our roadways by installing video cameras, or "photo radar," and speed traps in an attempt to bust speeders and to make the roadway safer for everyone.
There are a number of reasons why we have speed limits. It's not just another way for the government to regulate your every motion. It's to help to ensure the safety of all residents. Speed limits are carefully determined upon a number of factors including highway design, highway conditions, highway operations, differences at state or municipal borders and regards for traffic safety.
Some important facts about speeding, provided by Advocates for Highway and Auto Safety:
-Traffic accidents that involve excessive speeding result in economic costs of more than $40 billion for a single year. These accidents make up nearly 20 percent of all of the crash costs. They cost each U.S. resident an estimated $144.
-When speed is increased from 40 mph to just 60 mph, the energy that is released in an accident is more than doubled.
-Speeding-related accidents took the lives of more than 14,000 people in 2005.
-According to the Insurance Institute for Highway Safety (IIHS), when the speed limits were raised in a number of states back in 1996, motor-vehicle accident fatalities increased by nearly 20 percent on Interstate highways.
-The likelihood of speeding decreases as the driver's age increases. In 2002, nearly 40 percent of male drivers, ages 15- to 20-years-old, who were involved in a fatal accident were speeding at the time of the crash.
-In 2002, nearly 40 percent of all motorcyclists that were involved in fatal accidents were reported to have been speeding. Motorcyclists double their chance of being involved in a fatal accident when they're speeding.
Speeding in Missouri, according to GYSA:
-2001: Nearly 40 percent of fatal accidents reported speeding. Police issued nearly 132,000 speeding tickets this year.
-2002: Almost 30 percent of motor-vehicle accidents that resulted in death reported a speeding driver. There were approximately 133,000 speeding tickets issues throughout this year.
-2003: More than 40 percent of accidents were speeding-related and fatal. During this year, nearly 126,000 speeding tickets were issued to drivers.
If you are dealing with a car accident in Neosho, Carthage, Webb City, Carl Junction or the surrounding area, call 417-627-0066 today for a confidential consultation to discuss your rights. Attorney meetings by appointment only.

More Blog Entries:
Click It or Ticket Campaign Aims to Decrease Risks of a Fatal Car Accident in Joplin, Neosho and Carthage and Elsewhere in Missouri, Joplin Car Accident Lawyer Blog, June 11, 2011
Missouri to Join Fight Against Fatal Car Accidents in Joplin and Elsewhere, Joplin Car Accident Lawyer Blog, June 2, 2011
Springtime Means Motorcycle Accidents on the Upswing in Joplin Missouri--Tips to Avoid Motorcycle Accidents, Joplin Car Accident Lawyer Blog, May 31, 2011
Attorney meetings by appointment only