A new edition of the pedestrian safety report, provided by Transportation For America, has been released. This new report takes a look at the 47,000 pedestrian fatalities that occurred between 2000 and 2009. It also looks at the 688,000 pedestrian injuries. All of these incidents were a result of motor-vehicle-related accidents on our roadways. The data will be used by Dangerous by Design 2011 to examine these occurrences and search for new ways to reduce the risks of these pedestrian accidents in Missouri and elsewhere throughout the United States.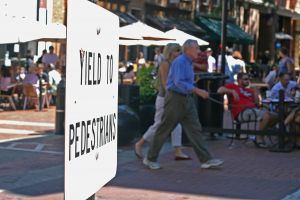 Our Missouri personal injury attorneys understand that pedestrian accidents have become an epidemic that is all too accepted in our area. There are a number of ways that we can help decrease the risks of these accidents. Drivers are asked to practice extreme caution behind the wheel to help protect our on-foot and two-wheeled road travelers.
The new report comes equipped with national data and city-specific data through a number of fact sheets. The data is also available through an interactive pedestrian map that illustrates the specific whereabouts of the serious, and fatal, accidents.
According to the report, there were more than 800 pedestrians killed in Missouri during the studied years. These fatalities cost the state nearly $3.5 billion. Our state ranks 17th out of the 50 states on the Pedestrian Danger Index (PDI).
A majority of these pedestrian accidents happen along "arterial" roads. These are roads that have been constructed to accommodate speedy traffic and provide little to no safety measures for pedestrians. These are roads for which federal funding is provided for construction. Even with the alarmingly high number of pedestrian fatalities along these roads, Congress is still considering eliminating their funds to make them safer for walkers, joggers and bicyclists.
This fund only makes up less than 1.5 percent of the current federal transportation outlay. Highway-only lobbyists also continue to argue that safety is a feature that must be provided by local governments. Still, they're forgetting that roughly 70 percent of these accidents occur on federal-aid roads. These are the roads that are eligible to receive federal funding and must follow federal guidelines for their design.
The most dangerous counties in Missouri for fatal pedestrian accidents:
-Jackson, 136
-St. Louis, 105
-Greene, 33
-Jefferson, 28
Until federal programs focus on pedestrian safety, these numbers will continue to be alarmingly high. Federal programs are currently still encouraging that state departments of transportation focus on speedy flowing traffic over the safety of pedestrians in neighborhoods and shopping districts.
If you think our tax dollars should be used to increase the safety of pedestrians, you are urged to contact Congress and voice your opinion. Now is no time to cut funds for pedestrian safety.