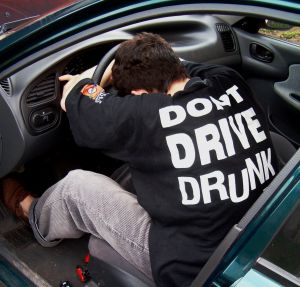 For quite some time, Jefferson City Missouri car accident lawyers have been blogging about the dangers of driving under the influence, and the efforts of Missouri law enforcement to combat it. Recently, we learned of a new campaign, "Drive Sober or Get Pulled Over," that was launched by the Missouri Coalition for Roadway Safety.
Read the MoDot press release about the campaign here.
The logos and graphics in the campaign are designed to stress the importance of driving sober and the legal consequences of ignoring that advice. Jefferson City and other Missouri residents will be exposed to this new campaign via radio, digital and print messages.
There was a memorial service at the Missouri Capitol on Nov. 29th, honoring those who have been killed, injured or otherwise affected by motor vehicle accidents with impaired drivers. Around 100 members of the public showed up. Speakers at the ceremony included Kevin Keith, the director for the Transportation Department and Colonel Ron Replogle, the superintendent for the Missouri State Highway Patrol. Their message was direct:
"No matter what you drive - a passenger car, pickup truck, sport utility vehicle or motorcycle - if we catch you driving impaired, we will arrest you," said Replogle. "Law enforcement agencies across the state will increase their efforts to enforce Missouri's driving while intoxicated laws."
The statistics for drunk and drugged driving in Missouri are pretty grim. MoDOT reports that during the past three years, 800 Missourians have died and upwards of 3,000 people have been seriously injured in accidents involving drunk or drugged drivers. Impaired driving is a factor in 30 percent of all Missouri traffic fatalities.
"We could cut that number by a third more immediately. That doesn't cost any money. That doesn't cost anything. Just don't drink and drive," said Keith.
"During this season of celebrations, we remind drivers of the dangers of driving impaired," said Leanna Depue, chair of the Missouri Coalition for Roadway Safety. "It just isn't worth the risk to get behind the wheel after you've been drinking or are impaired. Some contend that those who drive under the influence are simply hurting and killing themselves, but a substantial number of people killed or injured in these crashes are innocent victims."
This holiday season presents the most dangerous time to be on Missouri's roadways. Between Thanksgiving and Christmas 0f 2010, 69 people died in Missouri traffic crashes. Of those, twenty were related to driving under the influence.
The only good news: the number of overall driving-related deaths has decreased by eight percent so far compared with last year's number. Your actions make a difference: please drive defensively, report any drunk drivers you spot out on the roads, and (of course!) never drink and drive. Your life--and the lives of your loved ones--may depend on it.
For more information on this new anti-drunk driving campaign, visit www.savemolives.com/impaired-driving.html.
If you have been injured in an accident caused by a drunk or drugged driver, you may need legal assistance. The Jefferson City drunk driving accident lawyers at Aaron Sachs & Associates, P.C. offer a no cost initial consultation about your car accident claim. We have been helping the citizens of Missouri receive justice for over twenty years--call us today to find out if we can help you.
Attorney meetings by appointment only