Three residents of Springfield, Missouri were injured after the tractor-trailer that they were riding in collided with a freight train, according to News-Press Now. The Kansas Highway Patrol reports that the big rig's driver and the two passengers were transported to Nemaha Valley Community Hospital in Seneca, Kansas. The accident happened on U.S. Highway 36 near mile marker 324.9, in Seneca shortly after 4:00 a.m. The driver of the semi claimed that he did not see the railroad crossing lights because of heavy fog. The semi-truck took out the crossing arm and hit the passing train.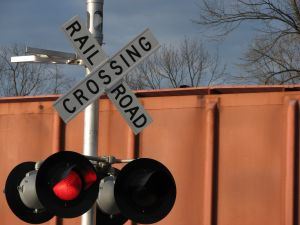 Our Missouri truck accident attorneys know how deadly traffic accidents can be when a big rig is involved because of its size and power. An accident with one of these big rigs and a train has the potential to produce much more catastrophic results. Motorists are asked to exercise cautious driving habits around both. Passenger vehicles have very little protection against either in the event of an accident.
According to the U.S. Department of Transportation's Federal Highway Administration, the United States calculates there are more than 136,000 public railroad crossings. Of all of these crossings, roughly 42,300 of them have crossing gates, more than 22,000 have flashing light and nearly 1,200 of them have highway traffic signals, bells and wigwags as of 2009.
During 2009 alone, there were nearly 2,000 accidents that occurred at public highway-rail crossings in the United States. These incidents resulted in nearly 250 deaths and more than 700 injuries. During the same year, nearly 400 people died and another 343 were injured while they were trespassing on railroad rights-of-way and property.
Since 2008, Missouri has witnessed 155 highway-rail accidents. Passenger vehicles accounted for most of these accidents. Only 16 tractor-trailers were involved in accidents with trains. There have been approximately 10 casualties in these locations since 2008.

The counties with the most highway-rail accidents are as follows:
-Jackson: 17 accidents.
-St. Louis: 9 accidents.
-Buchanan: 8 accidents.
-Franklin: 6 accidents.
-Stoddard: 6 accidents.
The Federal Railroad Administration offers motorists these tips for safe travel through a railroad crossing:
-Remember that trains can't stop quickly. It takes about 18 football fields for a 100-car freight train that is traveling at 55 miles per hour to stop once the emergency brakes have been applied.
-The newer the train, the more quietly it operates. Don't expect to always hear a train coming.
-Always assume a train is closer and moving faster than it appears. The size and the mass of a train can actually create an optical illusion that can fool you.
-Don't drive around lowered gates. It's illegal and it can be deadly. If you think that a railroad crossing's warning device is malfunctioning, call the 1-800 number that's posted on or near the crossing. If you can't find that number, call the local law enforcement.
-Only drive over a highway-rail grade crossing if you are absolutely sure you can clear the crossing without stopping. Don't proceed if the traffic on the other side is backed up.
-If you get stuck on a track and a train's coming, make sure to get everyone out on the vehicle as quick as you can and move everyone away from the tracks in the direction the train is coming from. If you move everyone in the same direction that the train is traveling, you could be injured by flying debris from the impact on your car.
-Only cross tracks at designated pedestrian or roadway crossing areas.
If you or a loved one has been involved in a trucking or a train accident in Missouri, contact the Injury Lawyers of Aaron Sachs & Associates for a free initial consultation. Call 1-888-777-AUTO (2886).
More Blog Entries:
Causes of Missouri Trucking Accidents Usually Preventable, Missouri Truck Accident Lawyer Blog, August 16, 2011
Trucking Accidents in Missouri Cause Serious Damage, Missouri Truck Accident Lawyer Blog, August 11, 2011
Attorney meetings by appointment only