Earlier this Summer, an 18-wheeler plowed into a special needs school bus in Texas. The collision caused the bus to flip several times, according to KENS 5. Two adults and one special needs boy aboard that school bus were taken to the hospital. The truck driver did not suffer any injuries.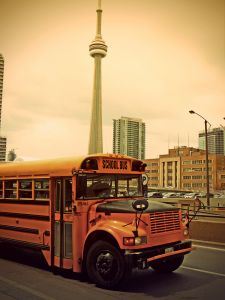 Our Missouri trucking accident attorneys understand that we will be seeing an increase in school bus travel as the school year approaches. More than 22 million children riding these buses every day to and from school and other school-related activities. According to the National Highway Traffic Safety Administration, there have been nearly 1,500 fatalities resulting from school bus accidents since 1990. This is an unfortunate statistic that we must aim at reversing because school buses continue to be the single largest form of transportation for children in the United States.
This means that there are nearly 9 billion school bus trips every year. These 9 billion trips haul 24 million kids on more than 440,000 school buses. Recent school bus accident statistics conclude that nearly 30 kids die every year because of school bus accidents.
Tips for children riding the school bus:
-When you see your bus approaching, back up and remain about 10 feet from the curb.
-Wait for the bus to come to a complete stop before boarding.
-If you have to cross the street to board the bus, wait for it to come to a complete stop and look both ways before crossing.
-Once you're aboard the bus, make sure you listen to the driver, don't rush or push others out of the way.
-Always remain in your seat.
-Keep the noise level down.
-Keep your head, hands, and feet inside the bus.
-Do not throw things inside the bus or out the windows of the bus.
-Keep out of the 'Danger Zone.' This is the area within 10 feet of the bus.
-Do not try to pick up something that you dropped and may have fallen underneath the bus.
Not all buses come equipped with seat belts either. For this reason, it is important for all children to remain seated on their school bus at all times. Currently, only five states, including California, Louisiana, New Jersey, and New York, require seat belts on school buses. Texas just recently started to require that seat belts come on all buses.
If you or a loved one has been involved in a trucking accident in Missouri, call 1-888-777-AUTO (2886) today for a confidential consultation to discuss your rights.
Attorney meetings by appointment only